A major hub and strategic connection to the world market
Christchurch International Airport is New Zealand's second largest airport providing a major hub and strategic connection to the world's film & Television markets. Christchurch International Airport ensures ease of entry as the only 24/7 airport in the South Island.
The new integrated terminal offers a first-class airport experience with large passenger lounges, extra seating, improved passenger flows and enhanced retail and café areas.
Christchurch Airport is located just ten kilometres from the heart of Christchurch CBD. This journey is an easy 15-minute drive. Taxi companies hire cars and shuttle services are all regularly available to transport you to your accommodation.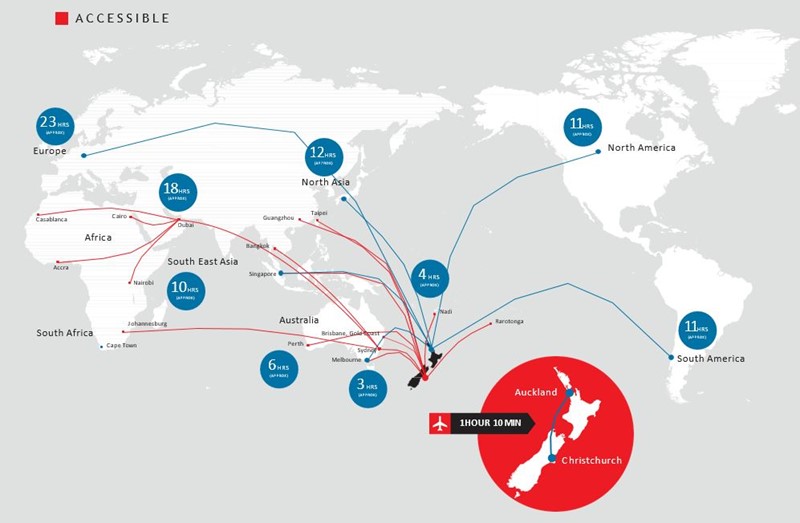 International Connectivity
11 International Airlines fly direct to Christchurch from 13 international destinations around the world. International carriers include:
American Airlines
Air New Zealand
Virgin Australia
Emirates
Singapore Airlines
China Southern
China Airlines
Air Pacific
Qantas
Jetstar
Cathay Pacific
115+ weekly flights connecting Christchurch with the world. Further connections through Auckland International airport are readily available, with frequent daily services and just over a one hour flight time.
Christchurch International Airport also has full service private jet facilities, secure aircraft
parking, hangar, lounge facilities, direct runway access and medical facilities available.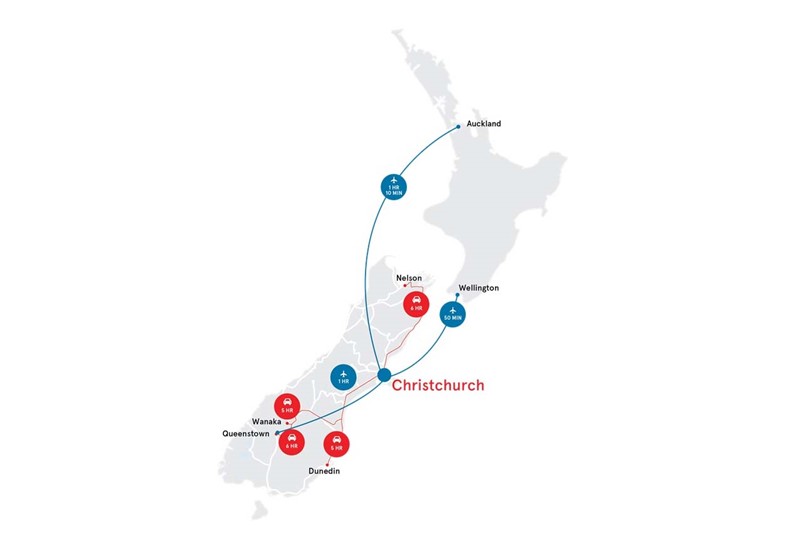 Private Jet Facilities
GCH Aviation, Christchurch International Airport
GCH Aviation welcomes crew & talent to utilise their Integrated Corporate Jet Centre - a New Zealand Customs approved processing centre providing private, secure and confidential facilities at Christchurch International Airport.
The facility has private and secure aircraft parking, hangar including lounge facilities of international standard with direct runway access.
The centre has its own medical suite, and GCH Aviation maintains strong relationships with
other emergency service providers including close links to the New Zealand Police, and their specialist squads.
Get In Touch
We are here to help you and your next project. If you need access, have any questions or just want to start a conversation on how we could collaborate as the screen office, get in touch now.
Be sure to follow @ScreenCanterburyNZ on Instagram, Facebook and LinkedIn.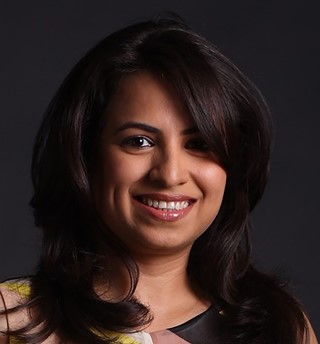 Petrina D'Rozario
Screen CanterburyNZ Manager
Helen Castelow
Screen Facilitator