American-born, Christchurch-based
Across most the globe, the map of the world is full of men's names - with the exception of a few queens and wives. Antarctica is the exception. Here, women leaders and scientists have been memorialised in cartography.
Finnemore Peak, in Victoria Land, is one such place. It was named after Michelle Rogan-Finnemore, an American-born, Christchurch-based geologist and lawyer who helped start the Gateway Antarctica programme at Canterbury University and now is the Executive Secretary of COMNAP, the Council of Managers of National Antarctic Programs.
Finnemore grew up in Pennsylvania, where she dreamed of being an astronaut.
"That didn't happen, but I remember very clearly when my geology professor at University came back from Antarctica. He dumped a box of meteorites on the table and said 'these are pieces of space found in Antarctica'. And that was it. I was hooked. If I couldn't go to space, I was going to go to the Antarctic."
Finnemore first passed through Christchurch on her way to Antarctica in 1989. She spent two winters on the ice - including one at the South Pole where she took geodesy and seismology observations for the US Geological Survey.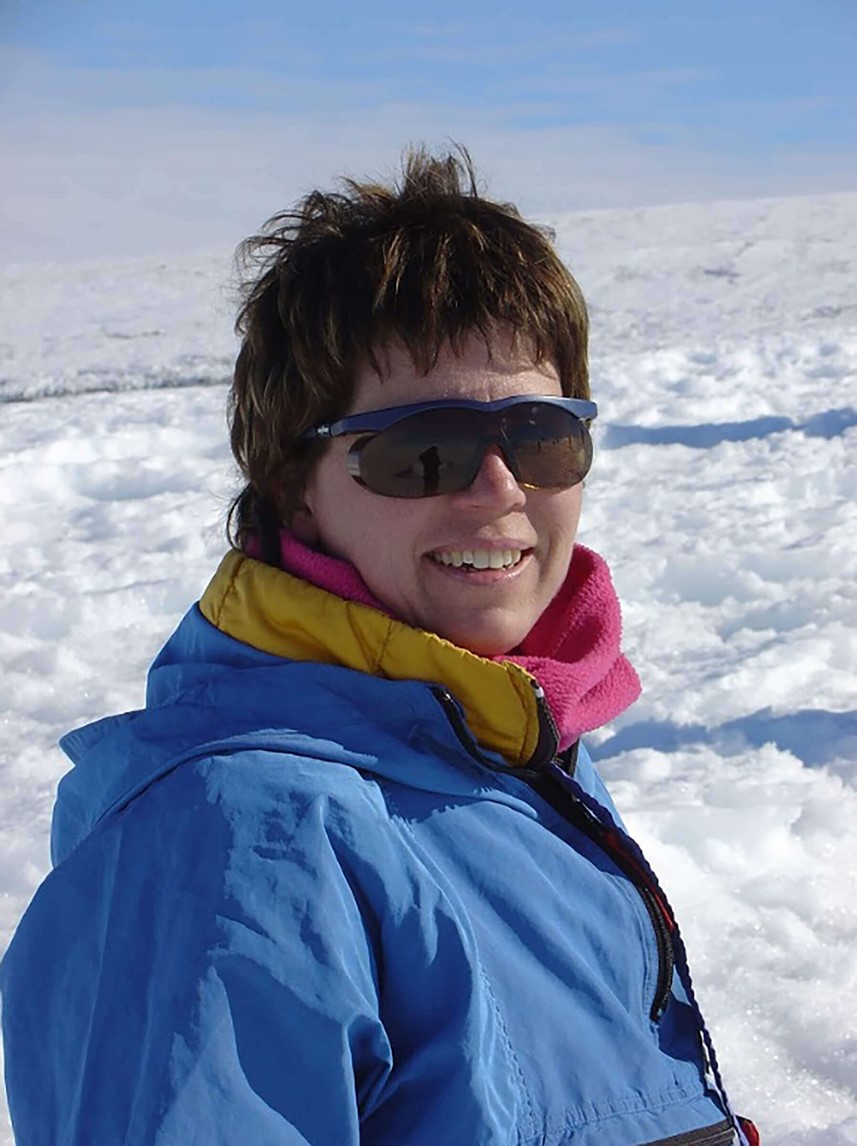 In those days, the ratio of men to women in Antarctica was eight to one. But Finnemore had come from a community where women were already vastly outnumbered.
"I did my university work as a geologist in the 80s. I think there were two women in my whole graduating class. But there, and at the South Pole – where there were only 20 of us that spent the winter - people don't so much care that you're a man or a woman, they care that you can do your job."
Finnemore went back and forth to the ice until 1994 and then she decided to continue her research with the geography department at the University of Canterbury.
"In 1994, I got off a plane here and just decided to stay. I then became very passionate not just about understanding the physical world but in understanding how we as a community continue to treat the Antarctic as being special."
While at Canterbury University, Finnemore did an undergraduate degree in law and then a masters, which focused on Antarctic Treaty issues.
"I wanted to combine my understanding of Antarctic science with my passion for law and governance issues."
At that time, in the early 2000s, the Antarctic Treaty was looking at the issue of using Antarctic living resources for commercial game. is the issue is called bio-prospecting and it is taking components of plants or animals and developing active components into a commercial product or process.
Krill is one example - enzymes are extracted from Antarctic krill and used in joint supplements. Fish enzymes are used to keep ice cream smooth.
"The Treaty was just starting to grapple with how do we deal with anybody being able to extract a living thing from the Antarctic for science and perhaps turning that into a commercial product that's worth billions of dollars. That's what I ended up doing my thesis on. I was looking at what the legal implications were in regards to that kind of activity in the Antarctic."
The Treaty system hasn't resolved the governance aspects of this.
Finnemore also worked with the University of Canterbury to develop and manage the Gateway Antarctica Research Centre, which was created to build on the University's Antarctic strengths.
"The Centre was set up to be multi-disciplinary. There was a policy arm and an arts arm - not just a science focus."
Finnemore worked there until 2009, when she took up her current role as Executive Secretary of COMNAP, which is one of only four Antarctic Secretariats and which is based in Christchurch.
"COMNAP's ultimate goal is to ensure there's facilitation of Antarctic science in an internationally collaborative way and in a way that applies best practice to science support across all 30 nations that are involved."
Finnemore says about half of the programmes have been involved in Antarctic research since the late 1950s, but there are many new countries keen to start research programmes.
"It's important for us to assist them to do that in a safe way and in an environmentally responsible way and in a way that adds value - so that all the work of the Antarctic nations is much greater than the sum of its parts."
COMNAP recently led a project to identify the challenges related to supporting Antarctic research. The project is called the "Antarctic Roadmap Challenges (ARC)" project.
"ARC identified an opportunity for electronics and technology and communications organisations to solve problems for Antarctic research. COMNAP recently did a big study on what those challenges are and that publication has become a sort of strategy for companies to develop technologies that can be used in the Antarctic and then also may have applications everywhere else. And that is a huge opportunity for New Zealand."
For Finnemore, the journey from scientist to Executive Secretary hasn't been deliberate. It's been a reflection of her passions.
"Antarctica has an intrinsic value, a wilderness value and a scientific value - and it's important for us to protect those values.
"The reason I'm interested in the legal aspects is so that we can continue to maintain that part of that planet as significant or different - in a way that we have failed with some other places."
Fifty-three countries are committed to the Antarctic Treaty. The legal documents around the treaty are set out as a model for conservation.
"It has a pillar for peaceful use, a pillar for science and a pillar for environmental protection. And you don't often have an international treaty that manages something that has those lofty goals."
Finnemore says the Antarctic Treaty could be relevant for the approach we take to space exploration and that the choices that countries take in the next decades are very important to the future of the Antarctic.
"We have a choice - we can continue to treat the Antarctic as a natural reserve devoted to peace and science, or we can make decisions which adversely impact the values of the Antarctic.. As an international association that works with all 30 of the National Antarctic Programmes, I continue to see a strong passion for protection of the Antarctic and strong support for the core pillar of internationally collaborative science."