New Zealand Entrepreneurs Shine on the FoodStarter Stage
New Zealand Entrepreneurs Shine on the FoodStarter Stage
New Zealand Entrepreneurs Shine on the FoodStarter Stage
The search for New Zealand's most innovative food and beverage products culminated with ten finalists pitching their exciting products to a judging panel of industry experts. The judges got the chance to taste, hear and ask questions of each of the finalists about why their products should be chosen for the once in a lifetime opportunity.
Lilo Desserts, with their plant-based cheesecakes, and Kaitahi As One, with Frozen Superfood Smoothy Drops, emerged winners, wowing the judges to each take home an incredible prize package and the FoodStarter 2021 crown in their respective categories.  Both products will immediately begin an accelerated journey supported by FoodStarter partners that will see them listed at all New Worlds across the country.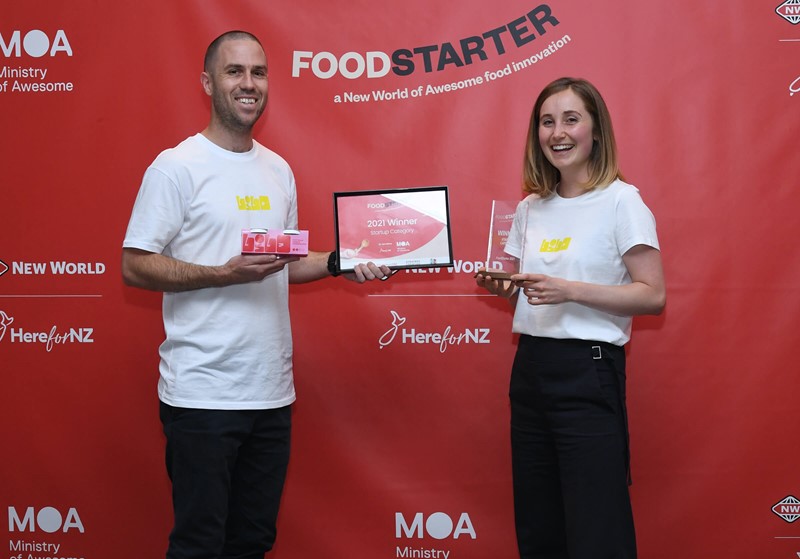 The competition is proudly supported by partners New World and Ministry of Awesome alongside Foodstuffs South Island, Foodstuffs North Island, New Zealand Food Innovation Network, ChristchurchNZ, Strategy Creative and Auckland Unlimited.
The amazing prize package includes: 
Opportunity to range the winning products in the New World supermarket network across New Zealand.
Product development and manufacturing support from New Zealand Food Innovation Network.
Expert business support and mentorship from Ministry of Awesome.
Branding and marketing support from Strategy Creative.
$2500 grant for workspace at GridMNK, a place for creators, innovators and entrepreneurs in Auckland.
Steve Anderson, CEO Foodstuffs South Island and FoodStarter judge was blown away by the standard of the entries and the level of insight each brought to their pitch presentation.
A huge congratulations goes to both category winners. It was a thrilling night, we were so impressed with the winning teams and their products and I have no doubt our customers will be equally as excited when they start to see these fantastic new innovations in New World."

Steve Anderson, CEO Foodstuffs South Island and FoodStarter judge
"It's been an incredibly rewarding experience and just one of the many ways Foodstuffs is committed to supporting its supplier community. A competition like this, of course, wouldn't be possible without the support of all of our amazing partners – all of whom are committed to supporting New Zealand businesses and making a lasting, positive impact on the food ecosystem in New Zealand," said Anderson.
Ministry of Awesome CEO, Marian Johnson, an integral part of FoodStarter since its inception in 2018, has been supporting start-ups and innovators in New Zealand for over 15 years and agrees that all the finalists should be extremely proud of themselves. "Food and beverage innovation is a really exciting area and something we're particularly good at in New Zealand, as all of our 10 finalists demonstrated.   
"Winning FoodStarter is such an exciting opportunity because it brings together so many experts ready to help accelerate the progress of two very interesting and appealing new products. I'm really proud to be part of the winners' journey and winning the Pressure Cooker Pitch is just the beginning."  
You may also be interested in ...