Live
Why Dee Sommerville Chose Christchurch
Dee Sommerville
Auckland. Wellington. Capetown. Christchurch.
Dee Sommerville has been an Ōtautahi Christchurch local for two years now, working for Beca as a project manager in construction. Originally from Auckland, Dee's move south was initially for family reasons, but after discovering the unbeatable lifestyle here, she and her partner have decided to put their roots down.
Where Did You Live Before Moving To Christchurch And Why Did You Decide To Move Here?
I grew up in Auckland, studied there and spent the first few years of my career there and in Wellington before moving to Cape Town, South Africa for a couple of years. When my partner and I got back, we stayed in Auckland for six months then decided to move down to Christchurch. My partner's family is from Christchurch and his mum was unwell, so we decided to move down and support his dad while looking after his mum.
What Were Your Perceptions Of Christchurch Before You Came Down And Has That Changed?
It was definitely a big decision to move to Christchurch. I didn't think it was very diverse or that I'd get the same lifestyle I had in other places. Now I think Christchurch is awesome and there's actually a lot of diversity here within the communities - the office I work in has about 400 staff and they are a really diverse bunch and I see pockets of all sorts of people around town.
It's also a really vibrant city. There are heaps of amazing cuisines, restaurants, and bars around. I was also surprised by how many young people are here - not just students, but lots of young working professionals.
Do You Think There Are Good Job Opportunities For People To Grow Their Career?
Christchurch is a huge growth centre for New Zealand at the moment, especially in construction and engineering. There are so many opportunities and major projects to be working on here. It's a hub of economic growth - you can see businesses popping up all the time.
I initially had concerns about finding a good job and the types of projects I'd get to work on. But I was completely wrong. I've been able to work on massive projects - the biggest healthcare project in the country right now is Dunedin Hospital and my work, along with other Christchurch companies are involved with that. There are opportunities here for highly qualified, ambitious professionals who want to push their career.
Did Your Partner Find A Job Here Easily?
My husband is a project manager, he works for a company that's based in Wellington, and he works remotely from Christchurch. His projects are based in the Pacific Islands, so he's connected in all sorts of ways.
The opportunity to work remotely has changed how people live and work and people are seeing that they don't have to live in a specific place to do a certain job or work in an industry. There's some really awesome shared office spaces all over town and outside of town as well.
Why Do You Think A Lot Of People Are Making The Move To Christchurch?
There is definitely a great southern migration to Christchurch at the moment and a key factor is house affordability. It certainly was for us. We managed to buy a house a lot sooner than expected and our new home has some land and we are close to town - that's just unimaginable in other big cities in New Zealand. So that was a huge attraction for us and I think a major factor for young people in general. We even have a Border Collie which we wouldn't have been able to have in the type of house we could afford elsewhere.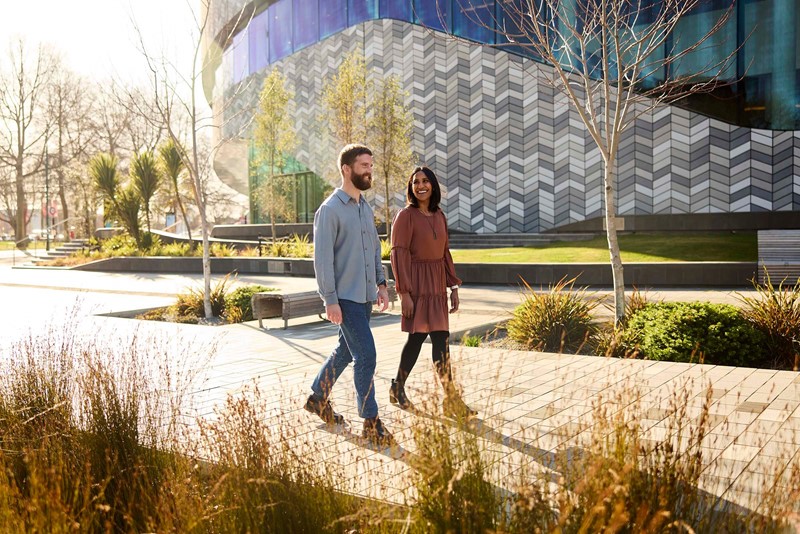 What Did No One Tell You About Christchurch Before You Moved Here?
How friendly everyone is - it's such a warm, welcoming city. I definitely had the impression that it's not that friendly, particularly to different ethnicities, but that's not been my experience at all.
I hadn't realised how bike-friendly the city is. I never thought I'd be getting on a bike on the road but now that I'm living here, I bike to work and in the weekends around the city - I'm only a 15-minute bike to work. There are cycle lanes everywhere and drivers are really aware of cyclists so it's really safe – it's great to be able to get around and bike no matter where you're going.
Is Ōtautahi Your Forever Home?
I'm really excited about living in Christchurch, especially to watch the city grow even more. It's an amazing time for Christchurch and it's only getting better and better with new stuff popping up everywhere and creating new opportunities for everyone.
The amount of time that I have on my hands now compared to when I lived and worked in other cities is just so different. The work life balance here is really incredible and I've been able to take up so many new hobbies because I have extra time available in my day. It'd be hard to give that up.