Career Planning
Plan Your Journey
A career plan is a journey that you can be in control of.
If you treat your career path the same way as your goals - one step at a time - it doesn't need to be daunting. Keep it realistic and be aware of the steps you need to take in different industries.
PowerUp Your Career
If you're looking to work within a particular industry, look into the different areas within it that you could go into and work your way up from. Put the time in to think about where you want to end up and what steps you need to take. Talk to those who are where you want to go and learn from them what steps they took.
Any job that you take now, is not forever. It's an opportunity that can lead to something else in the future.
Learning through observation and hands-on experience is invaluable.
Example A
Hospitality – From Housekeeper To Management
Teuila didn't want to be a housekeeper forever, but she learned that if she gained valuable experience from a real hands-on level, she could work her way up and build her skills and knowledge as she went.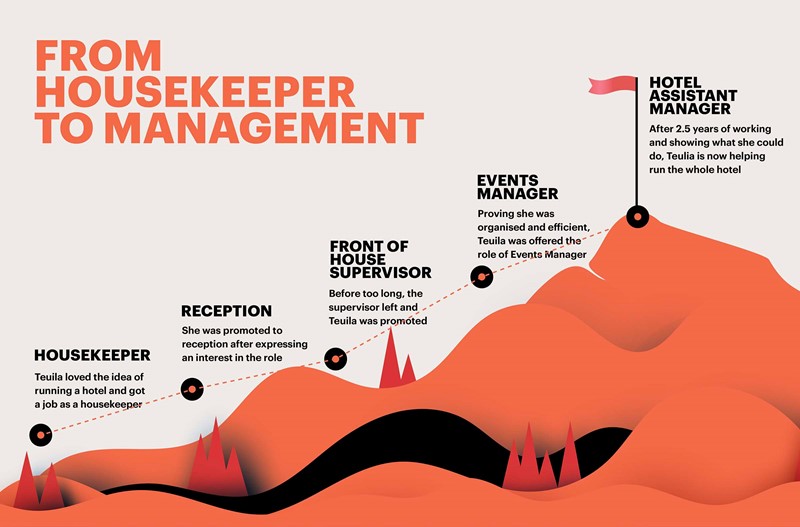 Every step that you take through your career path is knowledge and information you take with you to help you do the next one. It's never a waste of time or redundant. It's never not useful"

Clare French – Career Coach
Example B
Construction – Learning From The Ground Up
Janey had done a construction qualification, then tried to get a job as a Quantity Surveyor but found most employers wanted to see practical experience. So she started off as a labourer.
When Janey landed her first role a Quantity Surveyor, she was much more aware of the technical aspects because she'd worked in that job directly and seen it all for herself. She'd been there when things went wrong, when problems got solved, when better ways were discovered.
Having worked on the ground, she added more value to her job later on. Don't underestimate the power of working from the ground up. You can develop skills and knowledge that others may not have.