Business
From Copenhagen To Christchurch
From Copenhagen To Christchurch
Ross Milne moved back to Ōtautahi Christchurch after over eight years offshore. Discover what appealed to him about the city and find out what advice he would give others looking to relocate.
Ross left New Zealand as a young professional looking to gain experience overseas. After spending some time in China, his company offered him a job in Denmark. He originally thought he would stay for a year or so, but ended up living in Copenhagen for eight years.
"I just really just loved it. I kept getting amazing opportunities and growing my experience and knowledge base. I've had some quite exciting roles and the privilege of working on some really, large projects. I always thought I would come back to New Zealand at some point in my career, but when you're overseas, New Zealand seems really small. You sort of find yourself sitting there wondering, if I do come back to New Zealand, what am I going to do?"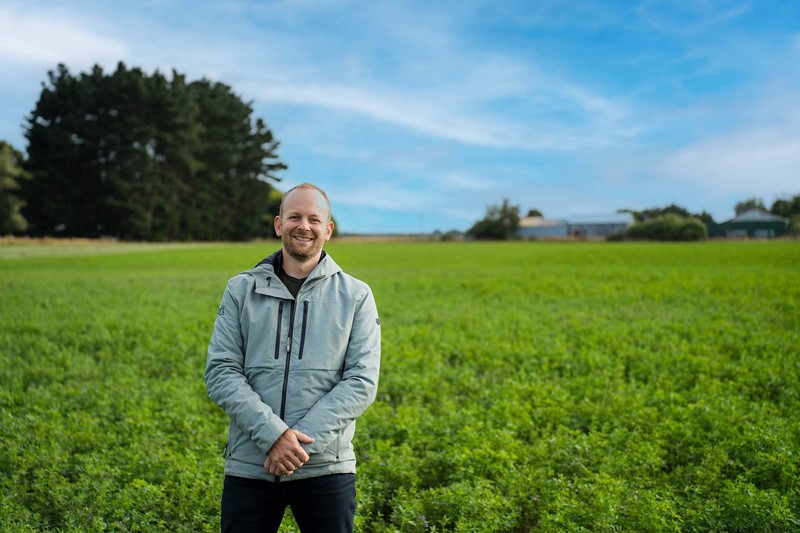 After a decade offshore Ross was approached by the founders of Kiwi startup Leaft Foods. The company has developed technology to extract protein from green leaf sources with the aim of reducing the environmental impact of food production and working to create more sustainable farming practices.
"When the founders John and Maury reached out to me and described their passion and vision for the business I realised that even at this really early stage this could be really something transformational from a food production point of view. That thought really excited me and I knew this was a role I could bring my experience and knowledge back to, all those opportunities I had overseas over the past decade, I knew I could bring those learnings back to New Zealand and contribute in a meaningful way."
The role was based in Ōtautahi Christchurch - a city known for its leading agritech and food production sector, which Ross says is a great place for the business to be based because of the opportunities the region provides.
"The Canterbury Plains are like the breadbasket of New Zealand, with their ability to produce a huge amount of food which is great, however there are also challenges around things like the environmental impact of that food production. For a company like ours these challenges provide opportunities, we know we need to find solutions to be able to work with farmers and do things differently. And of course this is a great place to be because there are some great people here to work with."
Ross was familiar with the city as he had gained his engineering degree at Canterbury University. Still it came as something of a culture shock moving from Copenhagen to Christchurch.
"I initially had to find somewhere to base myself and the only place available that met my needs was in Diamond Harbour, in Banks Peninsula. Moving to such a small place from such a bustling international city is quite surreal! But you have these views, with the hills around you and the ocean's absolutely beautiful. You've got the Port Hills where you can go cycling after work and then on the weekends you can go up into the Southern Alps and climb a mountain. For Kiwis that probably seems quite natural, but when you spend a long time living overseas in big cities, it's quite impossible to just suddenly, on a Saturday, go and climb a mountain. That's quite an amazing privilege we have in this country. To be able to live here and still work on projects that could have global impact, is really, really special. I sort of pinch myself every morning when I wake up."
When you spend a long time living overseas in big cities, it's quite impossible to just suddenly, on a Saturday, go and climb a mountain. That's quite an amazing privilege we have in this country."

Ross Milne - Leaft Foods
While Ross has been making the most of the opportunities his new lifestyle offers him, he admits moving home has taken a bit of getting used to and those relocating here, particularly from overseas should prepare themselves for a few adjustments.
"Coming from a big city back to the village so to speak, is quite a culture shock. All the hustle and bustle is gone. I also find a noticeable change in the way business is done. In the States and Europe you get used to cycling through a large number of business interactions in a short period of time. But if you operated like that in New Zealand it would seem a bit impolite. Here there is much more focus on relationship building and doing business is often more about the long game, that's definitely something I have had to adjust to over time."
For me personally it's been a hugely satisfying experience to come back to my home country and to feel like I'm contributing to something bigger than myself and making a difference globally."

Ross Milne - Leaft Foods
Ross says one of the best things about being a Kiwi is our attitude towards getting out and seeing the world, and he would always encourage others to take up those opportunities. 
"It's important to experience different ways of doing things, to get out and get that exposure and gain that knowledge from other parts of the world. But once you have experienced that I would really encourage people to bring those skills and insights back to New Zealand. For me personally it's been a hugely satisfying experience to come back to my home country and to feel like I'm contributing to something bigger than myself and making a difference globally."