Business
Aerospace Student Case Study
Dan Li
PhD Pathway To Aerospace Career
Mechanical engineering student Dan Li wanted to change his life. He chose Christchurch and hasn't looked back.
The Perfect Space
Dan Liu was looking for a change. The mechanical engineering student had finished a masters degree at an aeronautical research institute in Beijing and had worked there for six years when he made the decision to leave his home country.  
"I just wanted to change my life. I told my parents and they agreed," Dan says. 
He looked at universities around Australia and New Zealand but it was Christchurch and the University of Canterbury where he chose to do his PhD on the theory of creep fatigue, or the way that materials get worn out over time.  
Dan says his love of engineering has grown through his study. "When I started my undergraduate I thought that engineering was boring, but when you design something and see it become a product, that is an achievement. I like to find a problem and solve it. We often think that you have to love something to learn something but in my case I learned to love engineering." 
In the final stages of his PhD, Dan joined the Job Ready programme at ChristchurchNZ. The programme helps international students prepare for the kiwi work environment and connect with local businesses. 
"They helped me learn how to write a CV for New Zealand employers and to learn the best interview strategy." 
Industry Connection
ChristchurchNZ also placed Dan into a two-month internship with Invert Robotics, an innovative Christchurch company developing climbing robots that can scale stainless steel tanks to inspect and test for food and chemical industries. 
"It helped a lot to have experience at a company and to know more about how a Kiwi company works," Dan says.  
This experience made a big difference in Dan's search for a permanent position - three months after his internship, he was hired as a mechanical engineer at HamiltonJet, one of the city's iconic innovators who pioneered advanced marine propulsion systems and export around the world.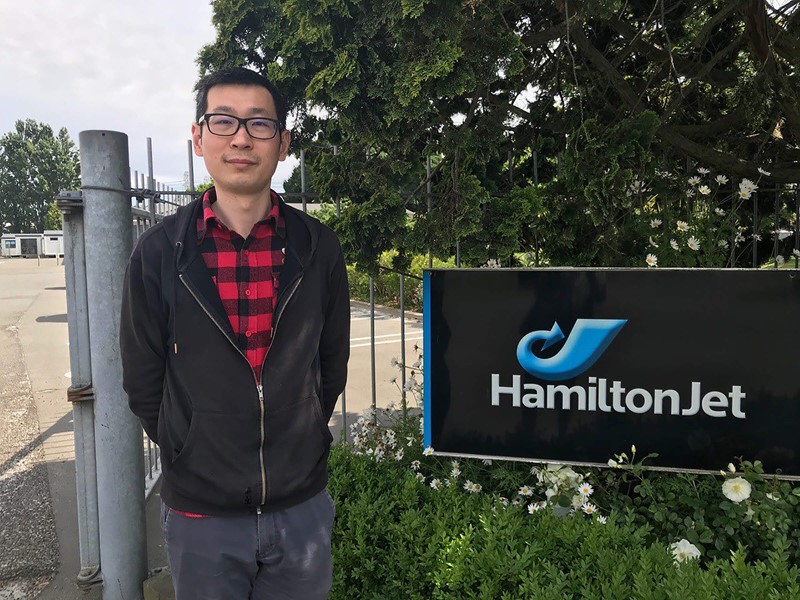 HamiltonJet fits into the city's newly established Aerospace and Future Transport Business Cluster. The Business Clusters were developed to help Christchurch build on its strengths in industries that have global growth opportunity. 
Richard Sandford, General Manager of Innovation and Business Growth at ChristchurchNZ says the Business Clusters present exciting opportunities for international students.  
"We are developing strong communities around each of these Business Clusters where students can explore the opportunity to easily connect with innovative businesses working on the world's biggest challenges," Richard says. 
The Perfect Fit
Mike Meade is Product Development Manager - New Controls at HamiltonJet. He says his team of 26 - of mostly engineers - is made up of a mix of immigrants and New Zealanders. "With a bit of understanding of cultural differences, you can get a lot out of a diverse team. It certainly helps if they've been educated here - their language skills have improved as well as their cultural understanding of New Zealand work life." 
Mike says Dan fits in "like a glove". 
"We're very lucky to have Dan. He's a lovely character and hugely talented and he just seems to uptake any task we throw at him, no matter how complex. He's so willing. He gets on and learns new things and I'm amazed at how he's fitted in so quickly to the team." 
Dan says he's enjoying the challenges and the learning. "I can really grow here with this company."  
Dan immediately took to Christchurch and the Kiwi culture. 
Christchurch doesn't have a large population so there is less pressure here. And the relationship between people is very simple - when you want to say something, you just say it - the rules of society are lighter.

Dan Liu
A Simple Lifestyle
Dan says studying in a big city makes it hard to focus on what you want to do. He loves Christchurch for the green space and the ease of moving around the city.  
For others considering study or work in Christchurch, Dan advises, "If you want to change your life and have a simple life and just enjoy your life, I would say Christchurch is a good place for study - and also a good place for working and living."