ITM New Zealand Sail Grand Prix | Christchurch
Getting Around During The ITM New Zealand Sail Grand Prix
Traffic Management
SailGP in consultation with Christchurch City Council, ChristchurchNZ, local businesses and other stakeholders, has prepared a traffic management plan that takes into account solutions to manage congestion, parking, safety, emergency access, resident access and transport options for ticket holders during the event weekend. SailGP shared the traffic management plan with key stakeholders and the community before they submitted it to the Christchurch City Council for approval, which was granted in January 12, 2023. 
Road Closures & Restrictions
On both days of the ITM New Zealand Sail Grand Prix, road closures and restrictions will be put in place around midday on Saturday and Sunday and lifted around 6PM each day. Road closures will restrict access to Lyttelton for all motor vehicles, with roads blocked from Sumner and Governors Bay. There will be no access to Lyttelton via Tunnel Road at Port Hills Road.
During this time, only emergency vehicles and vehicles with a clearly-displayed access pass will be able to access the event area. Only Lyttelton residents, business owners and employees who need to work during race weekend, official event vehicles (including buses and taxis) are able to obtain a vehicle access pass. This includes bays residents between Dyers Pass Road and Lyttelton, as there will be a traffic control point at the bottom of Dyer Pass Road. Bridle Path Road will be used as an access point for permitted road users, where access passes will be checked by the traffic management staff. Regular bus services will also be maintained via Bridle Path Road and will have priority when they arrive at the control point.
On Sunday March 19, Summit Road from Evans Pass Road to Mount Pleasant Road and Mount Pleasant Road from Upper Major Hornbrook Drive to Summit Road will be closed from 11:45am to 5pm. This is because these roads became clogged on Saturday with cars parked on either side of the road that would have blocked emergency service vehicles. The roads will still be open to pedestrians and cyclists. Enjoy the views of SailGP but please keep the roads clear. Parking enforcement patrols will be active again on Sunday.
Commercial port vehicles, along with event bus access will be maintained via Tunnel Road via Port Hills Road. At all times traffic will be able to leave Lyttelton via the roads listed above. Permitted access may be stopped temporarily if unacceptable congestion is building in Lyttelton. This is not anticipated due to the proposed traffic management measures but this is only expected to last for short periods of time if required.
The Christchurch Gondola will remain accessible and unimpeded by the traffic management measures in place over the event weekend.
Find more information public transport during the weekend here.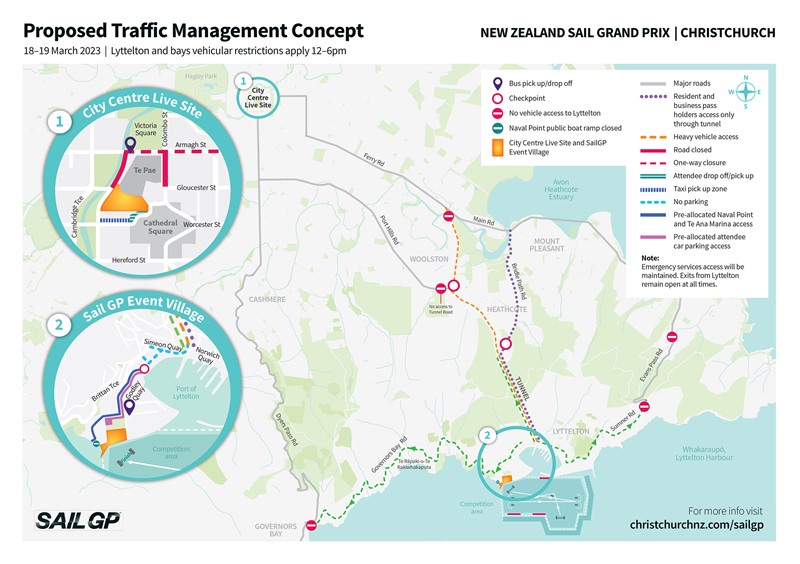 Inner Harbour Community Access
Bays residents between Dyers Pass Road and Lyttelton will be eligible for access passes and will need them to access the tunnel from Christchurch. Roads serving bay residents outside this area will not have traffic management restrictions but will be patrolled for parking or congestion issues.
Traffic Management Within Lyttelton
Once within Lyttelton, there will be a checkpoint on Godley Quay which will only allow permitted vehicles to the event site. Those walking to the event from the Lyttelton township can use a shared path from Lyttelton, down to Te Nukutai o Tapoa Naval Point.
Traffic Management Within Christchurch Central City
Traffic management will also be in place surrounding the city centre live site in order to facilitate a safe pick up and drop off area for buses, with taxi pick-up and drop-off available on Worcester Boulevard. Measures will be in place on Armagh Street and Colombo Street only during pick up and drop off times.
Information About Vehicle Access Passes
During the ITM New Zealand Sail Grand Prix, road closures will restrict access for all motor vehicles from around midday to around 6PM each day. Residents are encouraged to stay home and enjoy the excitement unfolding on Whakaraupō, Lyttelton Harbour but if you need to access your home from outside of the restricted access area during this time, you can do so with a vehicle access pass, available to Lyttelton residents. Businesses that require passes for employees and/or contractors and suppliers will also be able to do so.
One vehicle access pass will be issued via letter drop to all affected households, sent later this month.  
Additional passes for unique circumstances may be issued on a case-by-case basis at the Lyttelton Information Centre due to library renovations. 
Should you require an additional pass, please visit the Lyttelton Information Centre during its opening hours between the dates of 1 - 17 March 2023 and provide proof of address upon request of an additional pass. This can simply be a piece of mail. 
This vehicle access pass will allow access on Saturday 18 and Sunday 19 March. Please display the pass clearly on the windscreen of your vehicle to ensure traffic marshals can wave you through in a timely manner. Please remember,  traffic management measures are in place to mitigate unwanted impacts on the local community. As such, there will be no access passes issued for visiting friends and family, so we ask that you do not share your pass with those living outside the area if you plan to stay home. Parking in Lyttelton is extremely limited, so if you have friends coming over before the closures are in place at midday, please ensure you can accommodate their vehicles on your own property or they can access Lyttelton in a marked taxi or a local bus. 
Ferry Timetable Changes
Regular passengers on the ferry should note that there will be some changes to the usual timetable around SailGP.
Friday, 17 March – no services following the 12:50 departure from Lyttelton (return) until the 17:45 departure from Lyttelton.
Saturday, 18 & Sunday, 19 March - no services following the 13:20 departure from Lyttelton (return) until around 17:20.
Timings will be subject to change and will operate flexibly to provide additional capacity when able to sail.