As a gateway to Antarctic exploration for over 100 years our connection with Antarctica is embedded in the fabric of our city, our landscape and our stories.
Explore Antarctic attractions and landmarks that celebrate Christchurch's connections to the frozen continent.
Antarctic Gateway Audio Trail
Listen Up Ōtautahi
Learn about Ōtautahi's role as an Antarctic gateway city on our audio tour.
Hear from scientists and artists, historians and curators and get a taste for the magic, adventure and importance of this otherworldly continent.
The tour takes about 90 minutes covering 1.2km with 18 stops. If you're with young ones be sure to look out for the Antarctic creatures hidden along the route.
Access the experience via your browser.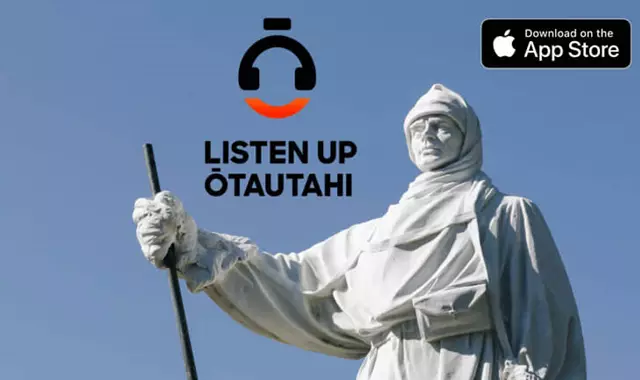 Listen Up Ōtautahi
Using an iPhone, iPad or a Mac?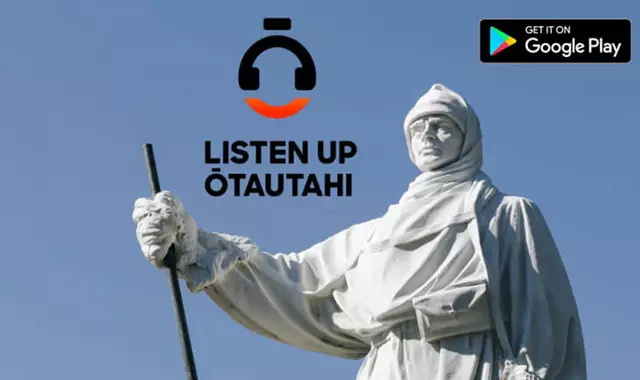 Listen Up Ōtautahi
Using an Android?
Antarctic Gateway Audio Trail
Experience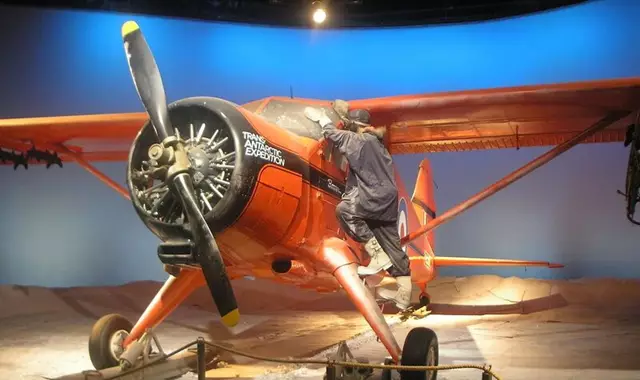 Air Force Museum of New Zealand
Displays the original aircraft used during the Commonwealth Trans-Antarctic Expedition of 1955-1958, co-led by Sir Edmund Hillary.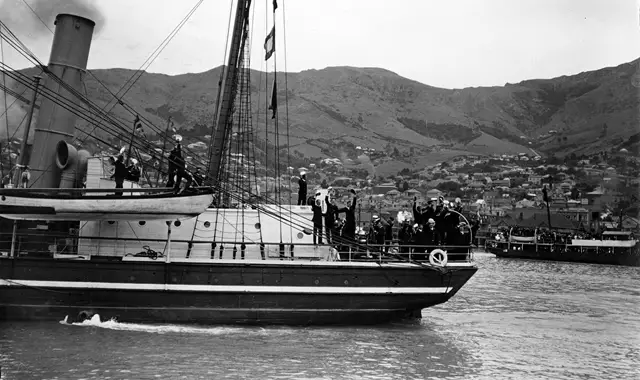 Ferrymead Heritage Park
Includes the photographic darkroom of Herbert Ponting, a member of Captain Scott's Terra Nova Expedition and the first professional photographer to accompany an Antarctic expedition. Also features a restored DC3 plane used for US Antarctic Operation Deep Freeze in the 1960s.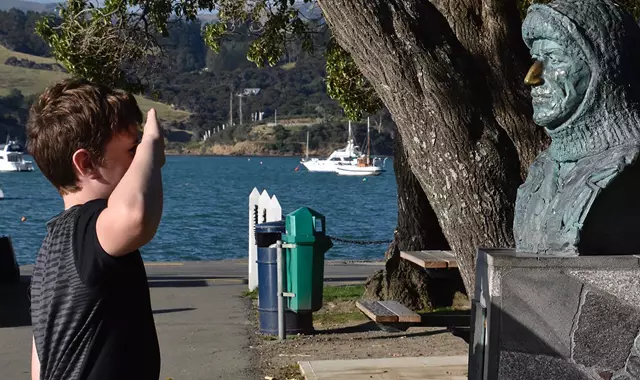 Akaroa Museum
Akaroa's favourite son, Captain Frank Worsley, was the ship's Captain and Navigator aboard Sir Ernest Shackleton's 1914 – 1917 Endurance expedition. The Akaroa Museum commemorates Worsley's life of adventure. There is also a bronze bust sculpture situated near Akaroa's main wharf.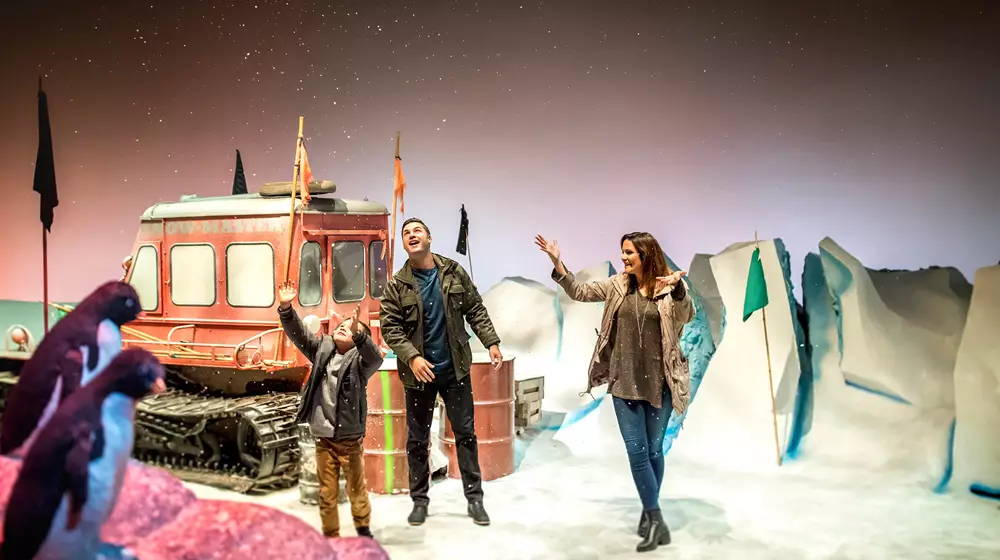 International Antarctic Centre
The International Antarctic Centre is the only specialised Antarctic attraction in the world. It provides a fun, interactive and informative way to learn about life on one of the most hostile continents in the world. It's the closest you can get to Antarctica without actually travelling to the ice!
At the International Antarctic Centre you can experience real snow and ice, survive an indoor Antarctic storm, learn about life at Scott Base, and watch Little Blue Penguins! Ride along in the Hägglund or check out the 4D cinema for an unreal simulated experience. Located within a short walk from the Christchurch Airport, it's a 'must-do' when visiting Christchurch.
Visit the International Antarctic Centre today
Christchurch
Robert Falcon Scott Statue - Located at the corner of Worcester Street and Oxford Terrace, the marble statue of Captain Robert Falcon Scott sculpted by his widow Kathleen, memorialises the death of Scott and his party on their return from the South Pole in 1912. Discover more about Scott's Terra Nova Expedition. Watch Kathleen Scott's tribute to her late husband and view a video on the restoration to the Scott Statue.
Captain James Cook Statue - Captain Cook's ship HMS Resolution was the first ship to venture south of the Antarctic Circle in 1773.The statue commemorates Cook's three voyages around New Zealand and was donated by bookmaker and philanthropist Matthew Barnett (1861 to 1935).
Magnetic Observatory Christchurch - Located in the Christchurch Botanic Gardens and in operation from 1901-1969, the observatory helped early Antarctic scientists calibrate their instruments before departing for Antarctica. Read about the Magnetic Observatory Restoration underway.
The Arts Centre of Christchurch - Features a magnificent stained-glass Memorial window in The Great Hall from the 1800's with Scott as a central figure.
Canterbury Club - Established in 1872, famous explorers and scientists (Robert Falcon Scott, Ernest Shackleton and Edward Wilson) dined at the Club which is still in operation.
Christchurch Club - Founded by wealthy runholders in 1856, Captain Scott frequented the club and was made an honorary member.
Christ Church Cathedral - The Christ Church Cathedral has had a long association of support of the Antarctic Programme. This includes offering an annual service to give thanks for those who give their lives to science and exploration in Antarctica and to pray for God's blessing and protection for them. The Cathedral is also the custodian of the Erebus Chalice used at the Chapel of the Snows at McMurdo.
Shackleton's Oak - The Oak was planted by Sir Ernest Shackleton in 1917 at the Christchurch Girls' Training Hostel, 90 Ensors Road, Linwood, now Ara Institute of Canterbury. A plaque commemorates the occasion.
Indian Totem Pole - Carved by Chief Lalooska, the pole is a gift from the Oregon Centennial Commission and the Portland Zoological Society in appreciation given to the personnel of US Operation Deep Freeze. Each of the figures on the pole is symbolic; at the top is the Thunderbird, traditional god of storm, honouring airmen who made the first supply drop at the South Pole in October 1956.
Christchurch Airport  - Over 100 flights depart from Christchurch Airport to Antarctica every season, carrying 1400 tonnes of cargo and 2600 scientists and staff involved in the National Antarctic Programmes. The world's first long distance flight to Antarctica left Christchurch for US McMurdo Station on 1 December 1955 in support of Operation Deep Freeze. Flights continue today, supporting a range of National Antarctic Programmes from New Zealand, USA, Italy, South Korea, Germany and France. Antarctic bound aircraft of the NZ Defence Force and the National Science Foundation's US Antarctic Program (USAP) can be seen at the airport in the summer season from October to March.
Antarctic Walkway, Christchurch Airport – The Antarctic Walkway follows an axis from Christchurch Airport to the International Antarctic Centre. Protecting people from the weather, it is also an art installation, which reacts to your movement, speed and direction as you move through it.
Lost Hut of Antarctica - Traverse a major blizzard and stumble across Pemberton's Lost Hut. Unlock the secrets and escape the room in time.
Lyttelton
The Port of Lyttelton has served as the basecamp for Antarctic exploration since 1901. These Antarctic connections can still be seen today in the town's history and its current operations.
Antarctic Postal Centre - Lyttelton Pharmacy – 19 London Street. One of the only places in the world your postcards and letters can be franked with an Antarctic postmark. Lyttelton Pharmacy are the philatelic bureau for New Zealand's Ross Dependency. You can read New Zealand's Antarctic postal history from preparations for NZ's participation in the Commonwealth Tran- Antarctic Expedition 1955-1958 to the close of Scott Base's Post Office in 1987.
Sled dog statue – The bronze Husky looking out to Quail Island embodies the courage, tenacity and comradeship of all who travel to the Southern Ocean and Antarctica and celebrates Lyttelton's association with the Antarctic.
Quail Island - Quail Island or 'Otamahua' lies 3km from Lyttelton in Te Whakaraupö (Bay of Raupö). When Antarctic exploration was at its peak in 1901–1929, the island was used to quarantine and train dogs and ponies, including for both Scott and Shackleton's expeditions
St. Saviour's Anglican Church – This church was attended by early Antarctic expedition crew members, including Robert Falcon Scott and his men.
Tug Lyttelton – a twin screw steam tug that was in service from 1907 to 1970. She escorted both Shackleton's Nimrod and Scott's Terra Nova's at the start of their voyages south.
Plaques – Two plaques commemorating the early Antarctic expeditions and the US Operation Deep Freeze ships engaged in Antarctic research are located near the Diamond Harbour Ferry office on the walkway down to Wharf No. 2
Godley Head – Scott's Cabin - Godley Head has ties to Robert Falcon Scott's failed Antarctic Terra Nova expedition of 1910-1913, housing the cabin that was taken to the Antarctic on Captain Scott's ship the SS Terra Nova in 1911
Lyttelton Port Company continues to serve as the logistics hub connecting Antarctic explorers and scientists from around the world to the Ross Sea. Antarctic icebreakers and research vessels visiting the port include Korea's RV Araon, Italy's NV Laura Bassi, Chinese Xuelong 2, US Antarctic Program's supply vessel Ocean Giant and Heritage Expedition's Spirit of Enderby. For Antarctic vessel visits, check out LPC's shipping schedule.
Akaroa
Captain Worsley's birthplace - Frank Worsley's parents Henry and Georgina Worsley were married in Christchurch and moved to Akaroa. Georgina gave birth to their youngest child, Frank, on 22 Feb 1872 at 44 Rue Balguerie. The house stands on the corner of Watson St and Rue Balguerie.
Worsley Bust Britomart Reserve - a bronze bust of Frank Worsley sculpted by Steven Gleeson was erected in 2004 by the Friends of Akaroa Museum near the main wharf looking south in the direction of Wainui. The plinth is carved from Antarctic rocks.
Georgina Worsley's Grave - Frank Worsley's mother Georgina died after a miscarriage in April 1874 when Frank was two years old. Georgina is buried in the Anglican section of Akaroa cemetery where her gravestone can be found. Note the error in the spelling of her name by the stonemason.