Silver Ferns v England Roses
The Downlow with Te Paea Selby-Rickit
Ōtautahi Christchurch is set to be the envy of many as the city hosts the highly anticipated showdown between the Silver Ferns and England Roses.

Silver Ferns shooter Te Paea Selby-Rickit talks about what she's looking forward to in the three-Test Cadbury Netball Series, how the team has prepared during lockdown, and what she loves most about Christchurch – her home for the past two years.  
Q: What are you most looking forward to about the three games against the England Roses?

A: It will be great for everyone to be able to watch some netball, it's been a tough couple of years with Covid. There's been so many sports tournaments cancelled, so for us to bring something to Christchurch, and for people to watch at home, I hope it will bring some excitement and enjoyment.
Q: It's still uncertain if a crowd will be able to attend due to Level 2 restrictions, how do you think that might change the game?
A: It definitely changes the vibe. We'll really miss the crowd if they aren't able to be there. They really get in behind you and hype you up.
We will just have to find ways of hyping ourselves up and at least we will be able to hear each other on court!
The crowd are like the eighth player, it makes such a difference having the home advantage and all that suport behind you. We'll miss the loud crowd, but we know they're right behind us.

Q: How has the training been going?
A: It's been full-on. We had a few weeks off after the ANZ Championship finished and unfortunately our new training programme kicked just when Covid hit so we've had to train remotely. We've tried to stay connected, we've been doing lots of Zoom training sessions together. But it's been good, the training has been pretty tough – a lot of running!
We always love playing in Christchurch, there's so much support here!

Te Paea Selby-Rickit - Silver Fern Shooter
Q: What does an average day look like for a Silver Fern in training?
A: I have a daily gym/weights session at 8am with the team either on Zoom or go if I'm able to, I go into High Performance Sport NZ's Centre at Jellie Park. Then I do a 90min netball skills session which is really, really hard – they've been absolutely grilling us. Then the week before the games, it steps up and we go into training camp together.

Q: What happens at the Silver Ferns training camp?
A: Camp is even more full on. We have a weights session in the morning, then a two hour training session. We'll get a break for lunch and a chance to put your feet up in preparation for the afternoon's two hour training session. Following that we're into recovery  – using ice bins and things like that. Then we get a break for dinner and the rest of the time is spent doing things like  team meetings, team building or video analysis.
We really try to cram everything into that week. We all stay in a hotel together so it's pretty hard-out but it's really good.

Q: What's your advice to young netballers hoping to be a Silver Fern one day?
A: Keep practising and just enjoy yourself. Play as many sports as you can, when I was younger I played a lot of different sports – a lot of tennis and swimming, and it all contributes to being a netballer.
My advice is to enjoy everything while you can. Once I got to high school I just didn't have as much time to do everything – especially when you are taking it seriously.
So play as many sports as you can. Enjoy it as much as you can. Practice all those little skills at home and just have fun with it.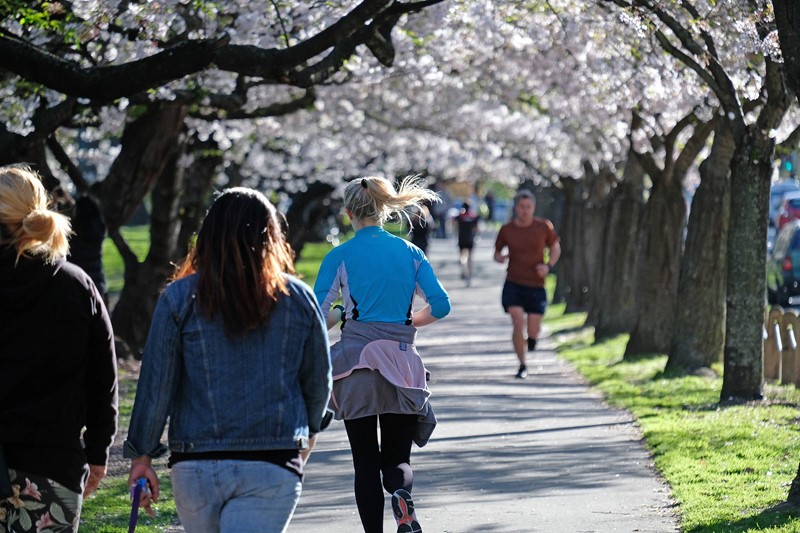 Q: You've been living in Christchurch for the last two years, how have you found it?
A: I love it here, it's a really cool city. Especially in the spring, the weather is so beautiful and sunny.
I love going to Hagley Park we spend a lot of time going for walks there. I go for lots of walks up Rapaki Track. Sumner is awesome we love the beach out there and Taylors Mistake is an awesome spot.  
I've been out to He Puna Taimoana Hot Pools at New Brighton it's really cool, so nice and relaxing.

Q: Do you have any shout-outs for your fave restaurants or shops that have been doing it tough through lockdown?
A: I love going to cafes and going out for brunch. Riverside Market is one of my favourite spots. I recently went to Athens Yacht Club and it was delicious.
I really enjoy going to Aikmans. We go to Little High – it's such a cool spot and lots of awesome foodie options.
Dose Diner on Blenheim Road is awesome too and the Bush Inn Tavern is a good wee spot, they've just got new owners now –  it's really good.

Q: What's your favourite event in BLOOM?
A: I love Addington Cup Week, I've gone every year since 2011, I love it, it's so much fun getting dressed up and we often go to the Lindauer Lawn which is really fun. It's usually really good weather too. I've been to Riccarton Park on the Saturday as well which has been awesome.

Watch the game!
The Silver Ferns will play the England Roses on 20, 22 and 24 September at Christchurch Arena. You can watch the games live on Sky Sport 1 or SKY Sport Now and delayed coverage on TVNZ 2.