Spotlight on Film Maker: Dave Kwant
Dave Kwant is a director, film maker and drone pilot, living on the West Coast. He's worked on Harry Potter and various projects with the BBC.
He sat down with Screen CanterburyNZ to talk about his latest project Whispers of Gold, and how the South Island of New Zealand is his dream location to live, work, and run a film business.
Tell us about you? What is your production company? What are your services?
I started making films about 22 years ago, whilst living in Scotland. At that stage I was mainly shooting travel, adventure and whitewater kayaking for the likes of Nat Geo and Sky.
I worked on set on Harry Potter and a BBC drama called Rockface. I moved to New Zealand 17 years ago and now run a production company called VisionCo based on the West Coast producing mostly commercial work with the odd documentary. 
We do a lot of drone and helicopter work and also assist visiting productions with location scouting, drone operations, and cinematography.    
How did your production company get started? Why do you work out of the West Coast/ South Island?
I first came to the West Coast on a whitewater kayak adventure shoot and instantly fell in love with the place and the people. Within a year, I moved here.
Initially video work was pretty limited, so I set up a design studio for print, web and video and also worked as a stringer. As web video kicked off, I sold my design studio and focused on video production with VisionCo.
Although our work now takes us all over the South Island, the West Coast is still my first love - there is such a good variety of stunning locations that are easily accessible with a nimble crew. 
We have a filming concession with DOC across the West Coast region which makes things easy, especially with visiting productions.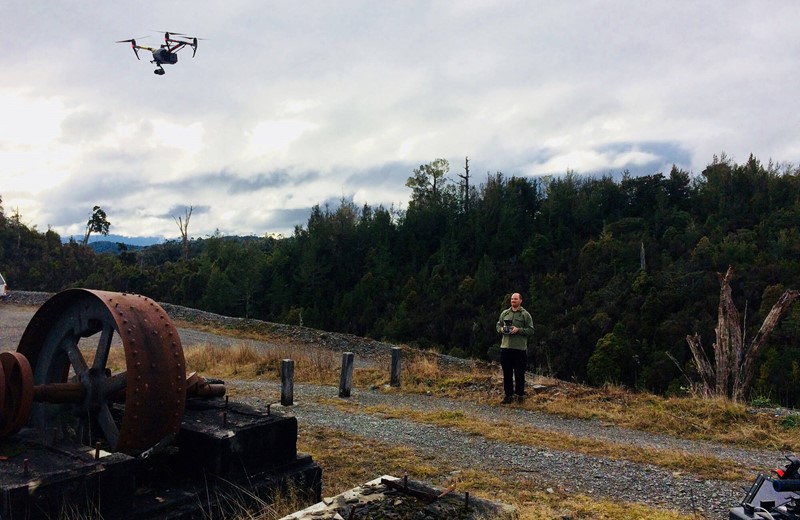 How did the project get started? Who worked on it with you?
WHISPERS OF GOLD started around 10 years ago. A friend and local historian was obsessed with the ghost town of Waiuta and we talked a lot about making a film about the place. Unfortunately, he died in a tragic tramping accident before we could make it a reality. 
Ten years later I got a call out of the blue from local heritage trust 'Friends of Waiuta' and DOC about the possibility of a documentary about Waiuta to celebrate it becoming a Tohu Whenua site. I jumped at the opportunity and we finished the film in July.
Robyn Janes wrote the story, it was directed by Luis Castañón from Christchurch and I was producer/cinematographer. Dylan Galletly mixed it and Pablo Kelly produced some beautiful artwork for the film.
How did you source talent and equipment to make the project a reality?
Fortunately for us the Friends of Waiuta have a really good network of people who lived and worked at Waiuta back in the day, so we were able to track them down to tell their stories for the film. 
We spent about a year in production, so there was plenty of time for a few stories and characters to come out of the woodwork. Another big bonus was that we had really good archive photos and film to work with.
Renting gear on the West Coast has always been a bit of an issue and often the locations we work in don't suit traditional studio equipment. Over the years we've invested in equipment suited to the work we do and the places we work in, so we were well set up to produce this film. 
We were working with a small crew and small budget, so we used natural light wherever possible and shot a lot handheld. The drone shots were invaluable providing a key perspective of the site and linking different parts of the story.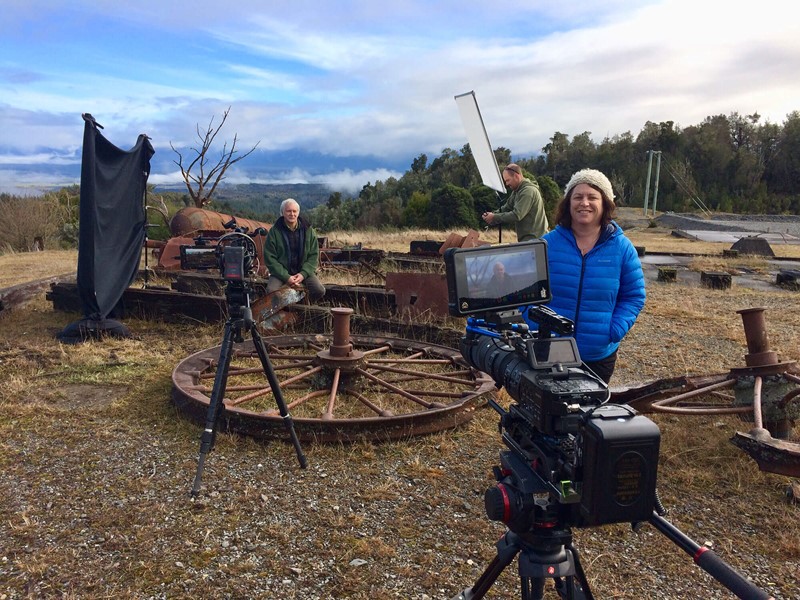 How did you fund the project? Where and when will it be aired?
The production was funded by Friends of Waiuta through a number of grants.
Initially we planned to do a few screenings for members and the public but after strong interest, that grew into a successful national theatrical release. We're really stoked with the response as it's just about made it's production budget at the box office.
I've been quite surprised at how successful it's been - it seems to have really caught people's imagination. 
We're in discussions to get it broadcast.
For More Information Contact