Days of Ice brings Antarctica to life
A new events programme is set to celebrate Ōtautahi Christchurch's unique status as an Antarctic Gateway city.
Days of Ice will touch down in the city from 8-18 October with a range of more than 30 events and activities, from polar films, audio tours, family days and exhibitions. It will serve as a headline feature of the city's BLOOM season of events.
The programme is being co-ordinated by ChristchurchNZ, together with a range of civic and private partners, and includes two new street art murals in the CBD.
Aotearoa New Zealand is lucky to be able to plan and safely host public events like Days of Ice. Our events industry will support economic recovery, both by attracting domestic visitors and encouraging local spend.
Ensuring a vibrant city and strong visitor economy is a vital part of the city's response to the social and economic impacts of COVID-19 – and Days of Ice contributes to this priority.
August spending in Ōtautahi Christchurch's central city was down 4 per cent compared to August 2019, and spending in tourism-related industries had also fallen.
For the year ending August 2020, spending on accommodation was down 28 per cent, while spending in cafes, restaurants, bars and takeaways was down 12 per cent. These figures clearly show the importance of stimulating spend.
Explore Antarctica Family Day will be held on 10 October at the Arts Centre of Christchurch, and the Polar Film Festival will run over two weekends between 10-18 October at Lumiere Cinema, also at the Arts Centre.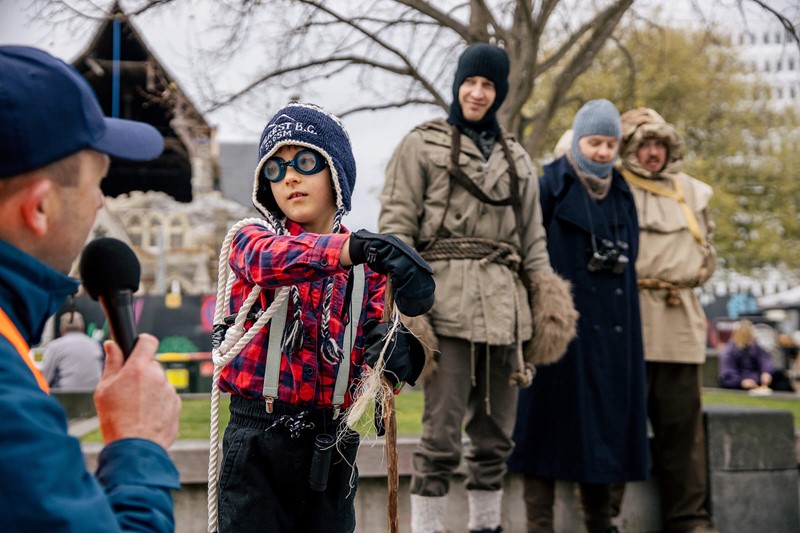 Days of Ice also includes the inaugural meeting of the Christchurch Antarctic Office's Christchurch Antarctic Network, a group of local businesses with links to the Antarctic sector, as well as official welcome events for dignitaries from International Antarctic Programmes that use Ōtautahi Christchurch as their Antarctic Gateway every year.
International Antarctic Programmes contribute nearly $150 million annually to the national economy, of which $105m is in Canterbury, according to 2017 figures. The Antarctic sector as a whole contributes more than $500m annually to the national economy, and more than $250m to the Canterbury economy.
Lianne Dalziel, Mayor of Christchurch, said she was "excited to see such a diversity of events celebrating our unique Antarctic Gateway status".
Days of Ice is a great way for the city to engage in the Antarctic experience. There is something for everyone from our youngest to our oldest community members.

Lianne Dalziel, Mayor of Christchurch
David Kennedy, Head of the Christchurch Antarctic Office, part of ChristchurchNZ, said he was "excited to see an expansion of events around the traditional Antarctic season opening".
"Days of Ice is a celebration of Ōtautahi Christchurch's Antarctic connection, both modern and historic, and we can't wait to see the public engaging with our passionate Antarctic community," Kennedy said.
"Days of Ice shows the breadth of our Antarctic sector. There are events for the whole family, like the Antarctic Tram Tour and Explore Antarctica Family Day, as well as VR experiences at Tūranga and the University of Canterbury, and the Polar Film Festival at Lumiere Cinema."
Head to the Days of Ice website for a full programme of events.
What is The Christchurch Antarctic Office?
The Christchurch Antarctic Office was established in 2016 to provide strategic direction and leadership for the development and implementation of the city's Antarctic Strategy.
The Office is also charged with maintaining effective engagement with stakeholders to increase an understanding of Antarctica by valuing and sharing Canterbury's links to Antarctica and strengthening links between Antarctic related organisations in Canterbury and New Zealand.
They also administer the Christchurch Antarctic Network, a group of local businesses with links to the Antarctic sector.
The Office is run by ChristchurchNZ, the city's economic development agency, on behalf of the city.
For more information about Ōtautahi Christchurch's connection to Antarctica, check out The Christchurch Antarctic Office website.