Meet
Warm welcome from Ōtautahi Christchurch
Warm welcome from Ōtautahi Christchurch
ChristchurchNZ introduced a new event to MEETINGS 2022, hosting a formal cultural ceremony to welcome guests to the first MEETINGS held in Ōtautahi Christchurch for 14 years.
This year's MEETINGS welcome function incorporated a warm reception from host city Ōtautahi Christchurch for buyers, media, exhibitors and VIP guests. Ōtautahi Christchurch came to life on stage at Christchurch Town Hall the evening before MEETINGS.
Over 650 guests attended the spectacular ceremony in the James Hay Theatre. Hon. Stuart Nash, New Zealand's Minister for Tourism and Economic Development welcomed overseas guests to Aotearoa New Zealand, and they were welcomed to Ōtautahi Christchurch by Mayor Lianne Dalziel.
This opening ceremony highlighted the resilience of the city and the journey people have been on since 2011 to rebuild this beautiful place. Local iwi, Ngāi Tūāhuriri welcomed all attendees with kawa (Māori protocol) for Ōtautahi Christchurch, commencing with a mihi whakatau (welcome speech) that showed the city's manaakitanga (caring for others) and whakamana i te tāngata, (respect for understanding the supporting Māori kawa and tikanga).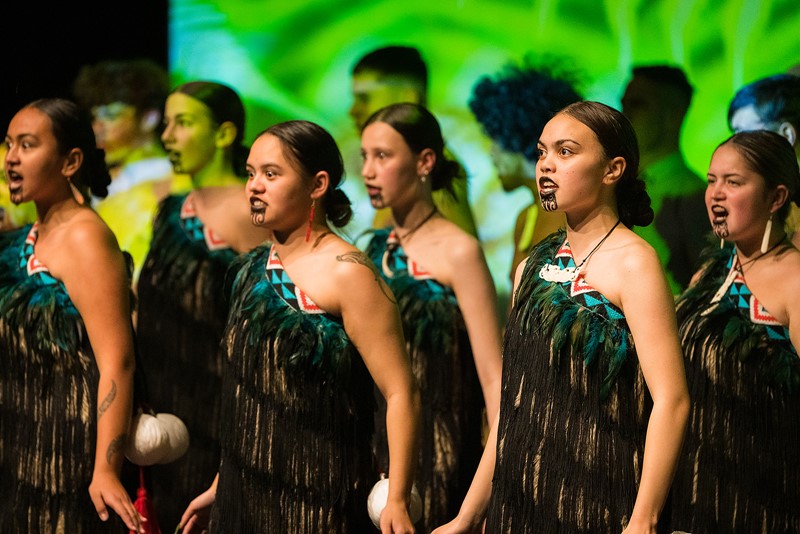 The acclaimed local tamariki (young persons) kapa haka group, Te Pā o Rākaihautū presented their rich cultural heritage and skills in song and dance to much applause from guests.
The grand finale was a beautiful rendition of Dave Dobbin's 'Welcome Home' performed by Stella Maris, who was wearing a harakeke (flax) woven dress depicting the intertwining of the city's culture, heritage, community, and people. The woven dress featured a stunning projection of images of the Canterbury region's lakes, rivers, mountain landscapes to bring this unique work of art to life. These amazing graphics, projected onto the dress, were curated and technically managed on the evening by Multi Media Systems.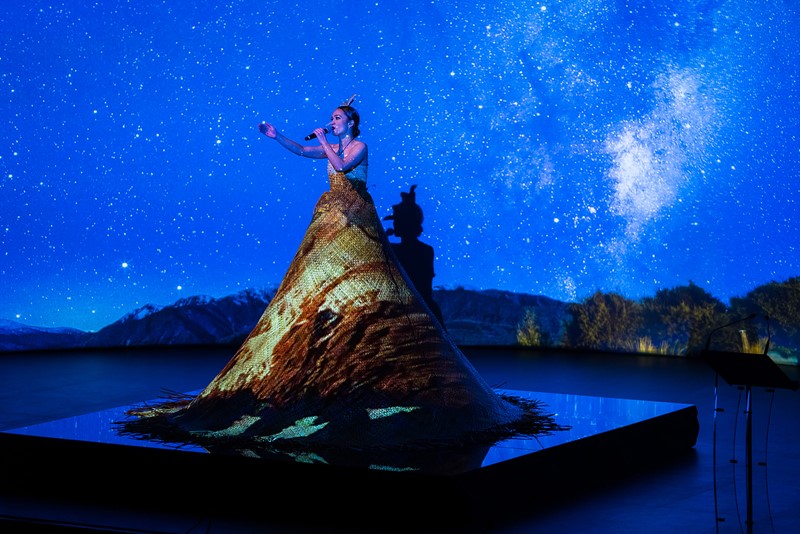 The harakeke woven dress was a concept created by Ali Rossiter, creative director of Epic Entertainment and commissioned to Ōtautahi weavers Mihi Adams and Toni Rowe. They sourced over 1,500 pieces of harakeke locally create this piece of art which is now a permanent feature of Christchurch's event offerings.
Following the welcome ceremony, guests moved through the Town Hall foyers and into the magnificent auditorium to experience the extraordinary kai (food) from around Waitaha, Canterbury created by Venues Ōtautahi acclaimed executive chef, Dan Shanks.
With styling by Kim Chan Events, Christchurch's bespoke and sustainable floral design and theming company, the welcome function had a distinct Canterbury flavour.
Multi-Media created all the audio-visual and production elements for the cultural welcome ceremony, while Shipley's produced the audio-visual for the welcome event.
The Production Agency arranged superb local entertainment, along with Johnson and Laird who are behind the MC, Julian Wilcox for the evening.