Meet
NZMA South GP-CME, 13-16 August 2020
Christchurch leads 12-hour turnaround for GP conference
NZMA South GP-CME, 13-16 August 2020
It all changed with one announcement
In less than a day, Ōtautahi Christchurch's Shipleys Audiovisual pulled out all the stops to transform a large conference for doctors into a fully digital event.
"As a network, the Christchurch business events sector really showed our ability to quickly, efficiently and effectively turnaround a large conference to a digital event, at very short notice."
Claire Hector-Taylor, Manager, ChristchurchNZ Convention Bureau.
The NZMA South GP-CME, a large medical conference for General Practitioners was to be held at Vbase's Horncastle Arena from 13 to 16 August.
The event was under construction and the trade and AV build underway when the New Zealand Government announced a move to COVID Level 2, banning events with over 100 people. It was just 24 hours to the start of the first session.
Pivoting overnight
The conference committee made the crucial decision to pivot to a fully virtual event across three streams, working closely with Shipleys and using their three remote broadcast studios across the South Island.
"Within a few hours we quickly confirmed that we needed to convert the meeting to a virtual platform as it was obvious this meeting could not run under Alert Level 2 restrictions.
The academic convenor, Peter Chapman-Smith, reconstructed the programme at lightning speed," said Leon Olsen, Director at Conference Matters.
Within four hours Leon and his team had cancelled hotel bookings, flights for speakers, rental car bookings, and updated the conference website and app with a new schedule.
Instead of delivering conference bags to guests on arrival in Christchurch, they sent them via courier to each of the attendees. A team of around 15 people from Vbase helped to pack the conference bags into the pre-printed courier bags. The deliveries were picked up the same day by NZ Couriers.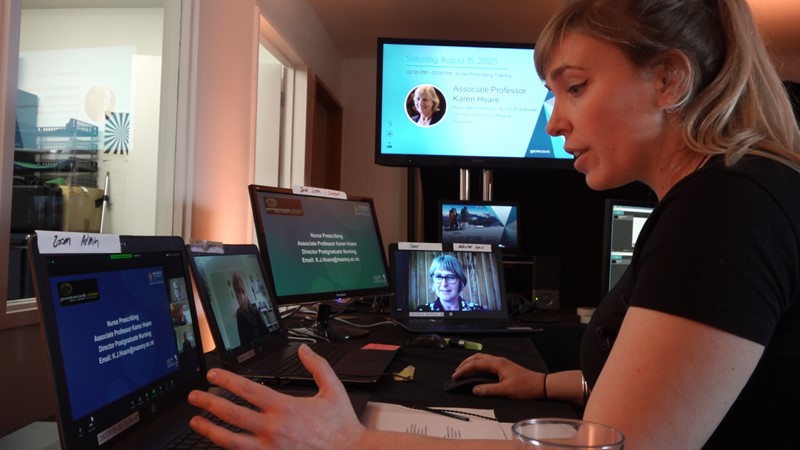 The result in numbers
• Three broadcast studios
• 80 hours live from Thursday 8.30am to Sunday 4pm
• Over 30 video calls with 91 presenters
• 3,347 viewers watched 330 sessions in total, with 1,212 hours viewed live over the four days, and a further 1,151 hours viewed since the meeting.
What they said
Leon Olsen, Director of Conference Matters
"The conference was delivered without a hitch, thanks to Shipley's skilled technical experience, having run our previous virtual meeting in June, and their better than professional attitude. Shipleys managed all aspects of speaker management for the Zoom calls, ensuring our speakers were well briefed and relaxed to still deliver quality education that was well received by the attendees. Without the experience, professionalism and attitude of Shipleys, flipping the meeting from in-person to virtual in 12 hours would not have been possible."
Craig Whitnall, Chief Executive of Shipleys
"I am so proud of the way our team transitioned with tenacity, professionalism and the necessary urgency to overcome this challenge. Having to pivot to an entirely remote conference in less than 24 hours was no mean feat. In our reviewed format, we were able to involve almost all of the original speakers, and even saw an increase in the reach of the presented content, one of the many benefits of this style of conference. This experience has given us, and our industry collaborators, renewed confidence in Shipleys' ability to deliver, even in adverse circumstances and under pressure. We are committed to the mahi of keeping everyone connected, whether that is live streaming a private event to family overseas, or a seamlessly run multifaceted online conference."
Watch the action below:
NZMA South GP-CME, 13-16 August 2020