Explore The Realm Of The Rohirrim And The Capital Of Rohan
The hilltop kingdom was a central location in The Two Towers and brought the expansive halls of Edoras to life.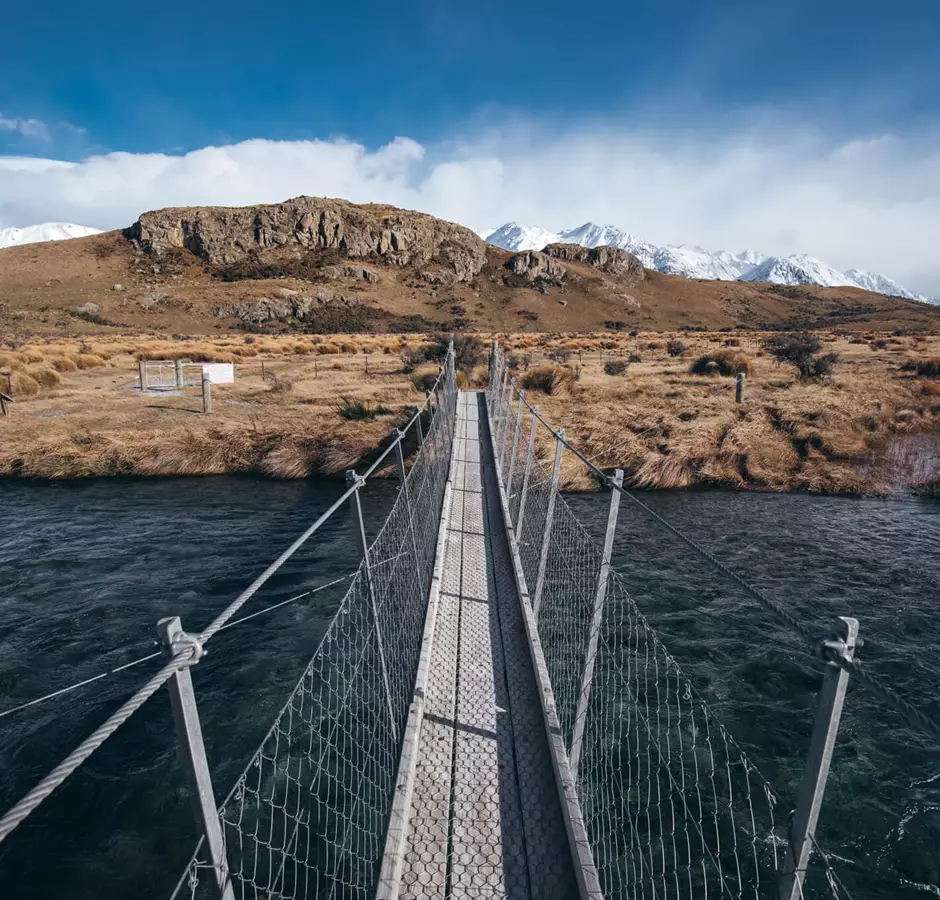 First stop along this Middle‑earth™ 'road less travelled' is Edoras, capital of Rohan. For those using the Aotearoa New Zealand Google guide, it's named Mount Sunday in the Mount Potts Conservation Area. Nestled deep within Canterbury's high country, Mount Sunday is little over two hours' drive from Ōtautahi Christchurch but the journey starts well and truly before the "tall peak surround by mountains" comes into view.
The Port Hills shrink past the plains before crossing over the Rakaia Bridge. A crossing Cantabrians make countless times, but one often leaving tourists speechless as azure blue and braided rivers dance intertwined. Snaking your way onward into the Ashburton Gorge, it's borderline impossible to commit every mountain, every slope, every visible inch of the spectacular scenery to memory.
With endless views of different lakes on both sides, cross over the one lane bridge and enter the valley where, peculiarly near the centre, stands Edoras.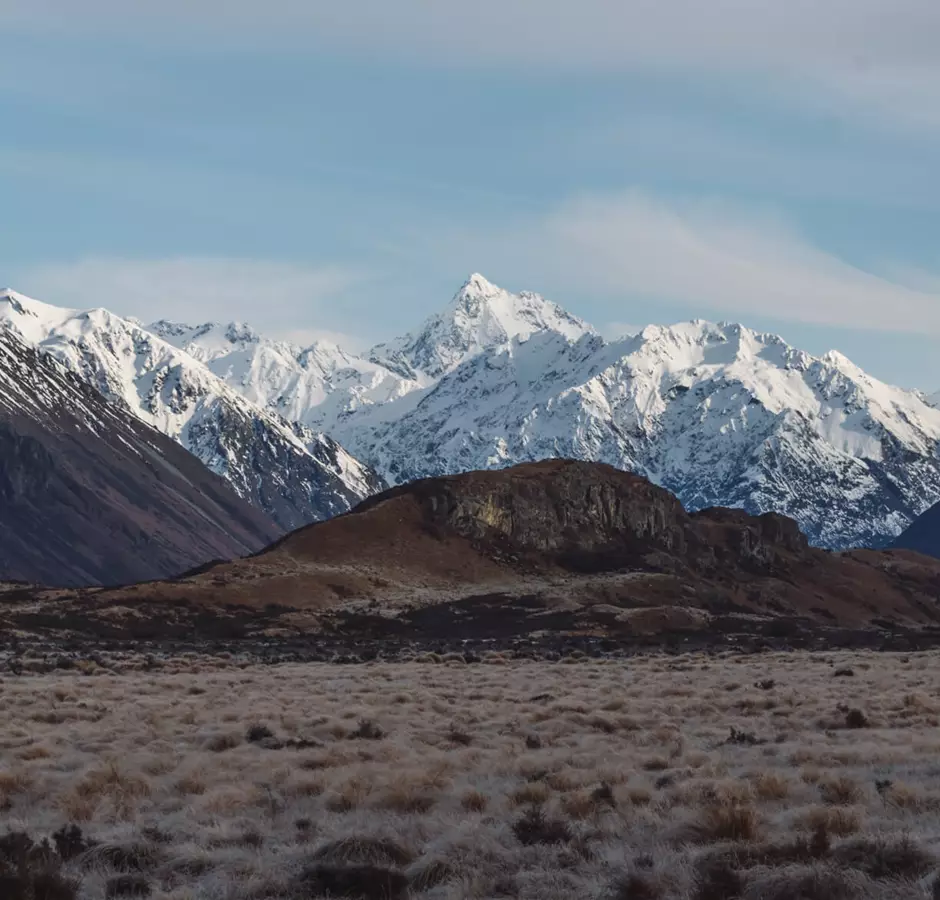 Tolkien initially described Edoras as a walled city, sitting upon on a tall peak, surrounded by mountains that were "white tipped and streaked with black". While it's take your pick at the Mount Sunday carpark, be careful... it's near impossible to look away, to stop imagining Edoras, front and centre of the Rangitata Valley with the snow capped mountains twinkling behind.
Here you can feel strange power of an entire world Tolkien dreamed of, brought to reality before your eyes. A 30 minute short walk to Edoras, the DOC track to Mount Sunday gently takes you through the twisting and turning valley. Over two bridges with inexplicably clear waters running below, rolling land lead you to the brief 10 minute ascent to the summit.
The last few steps to the top will fill you with indescribable glory. Take your time to looking out to the towering mountains glistening with fresh snow. Seeing the valley snaking its way down below.
More in Middle‑earth™
Edoras
Dwarf Directions
Mount Sunday/Edoras is 160 km (2hr 20 min drive) from Christchurch.The last 26km (approximately 40 minutes) are on an unsealed road.
9km past Clearwater village, descend into the Rangitata Valley. A single lane bridge takes you over the Potts River, leaving just two ford crossings to tackle before you arrive at the Mount Sunday car park. They are usually small but drivers take care.
From the car park, follow the DOC maintained track for 30 minutes, crossing two wooden bridges (including one swing) before making the ascent up thesouthern side of Mount Sunday/Edoras.
To bring some extra Middle-earth™ magic and cosplay connection to your road-trip, Petticoat Lane in Ōtautahi Christchurch have an incredible offering of medieval and Lord of the Rings inspired costumes you can hire out. Pop in and visit their friendly store in Papanui to find your character. You will be amazed when you see that most of their garments and glad rags are made locally too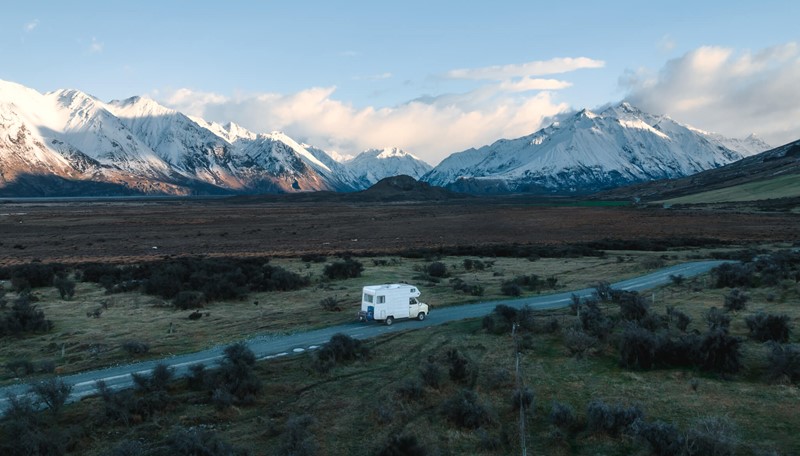 Hobbit's Handy Hints
Beware there's no cell phone service out here! Make sure you've saved the film scenes of Edoras and set Google Maps running before Mount Somers (this is typically the last patch of reliable service).
It can get extremely windy (and cold) at the top of Mount Sunday/Edoras. Check the weather forecast before planning your visit, paying particular attention to the wind.
The road to Mount Sunday is typically fine for a 2WD but is susceptible to wash-outs after heavy rain, and can be covered in ice after heavy snow. The Ashburton District Council keep a very informative and up-to-date road closures map.
Be sure to pack snow chains if you are visiting during the Winter time and snow is forecasted or fallen recently.
For an indication of current weather conditions, you can check the Arrowsmith Webcam.
Galadriel's Guide
As you drive out to Mount Sunday, you pass through Hakatere Conservation Park, brimming with beautiful walks around a number of spectacular high-country lakes. We recommend spending at least a full day here and packing a picnic to enjoy after a lakeside walk. Some favourite walks are the Lake Hill Track at Lake Heron or the Lake Clearwater Circuit. But honestly, even just relaxing at Lake Camp is refreshing, and if you can nab a still day, the mountainside reflections are simply perfection.
Mark from Hassle-free tours runs an incredible day Lord of the Rings Edoras Tour from Christchurch or Methven. He has genuine replica props so you can get the most out of your photos and shares behind-the-scenes information on how Mount Sunday was portrayed as Edoras. 
If you are looking for somewhere special to stay after exploring Edoras, we absolutely loved the Red Cottages in Staveley. With two cottages to choose from, both offering twin outdoor bath tubs and fireplaces, there's even a unique cinema on the property (a cleverly converted old woolshed). Red Cottages are 58km from Mount Sunday.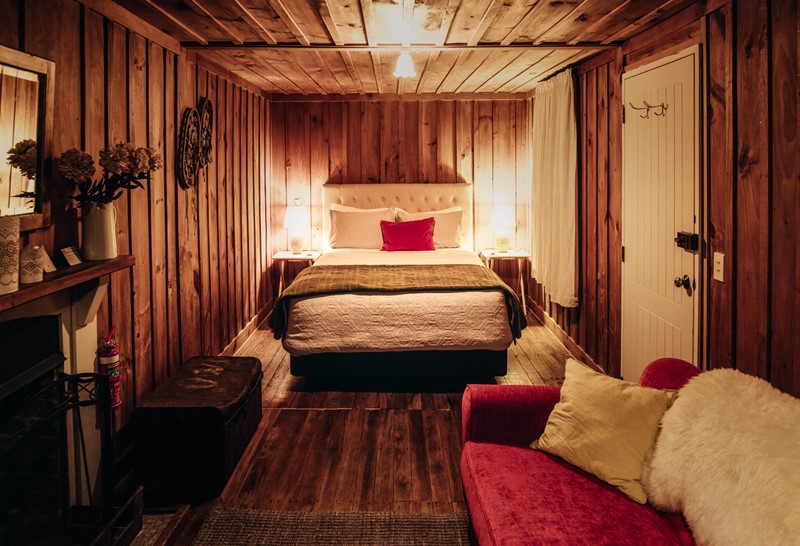 If you have a self-contained campervan, you can freedom camp on the edge of Lake Camp which is absolutely stunning. Alternatively, camping is available at Lake Clearwater Reserve for $10 per camper (or tent).
Frodo's Facts
While production crew members spent a whopping 11 months to build the set for Edoras, Peter Jackson and his film crew only had three weeks to film everything they needed! The buildings were then dismantled and everything was returned to its natural state.
The location of Mount Sunday as Edoras was discovered by pure accident. A storm had caused a diversion to the location scouts' intended route, and as they flew over Mount Sunday, they couldn't believe how perfectly it matched up to Tolkien's description of Edoras.
Mount Sunday got its name as initially, the boundary riders from nearby high-country stations would all meet here on a Sunday.
Movie Madness
Before you begin your ascent to the top Edoras, you can picture Gandalf, Aragorn, Legolas and Gimli as they first approach Edoras on horseback. It's even more special during winter (or early spring) when the surrounding mountains are covered in snow.
From the top of Edoras, look south to see the Southern Alps, just as Éowyn did; devasted about King Théoden's condition, she steps out of the Golden Hall to see the Rohan flag drift through the sky.
You can also picture little Éothain and his sister Freda who make it all the way to Edoras on horseback, warning Théoden that Rohan is under attack.
A Bilbo Bonus
Only 6km further north west from Mount Sunday/Edoras, is the hill that was used to film Aragorn looking out over Helm's Deep.
This hill is located on Erewhon Station, and with prior permission from the landowner Colin, you can climb to the top.
This scene from the movie is one of the longest single clips at 23 seconds, filmed in a helicopter rotating around Aragorn on horseback.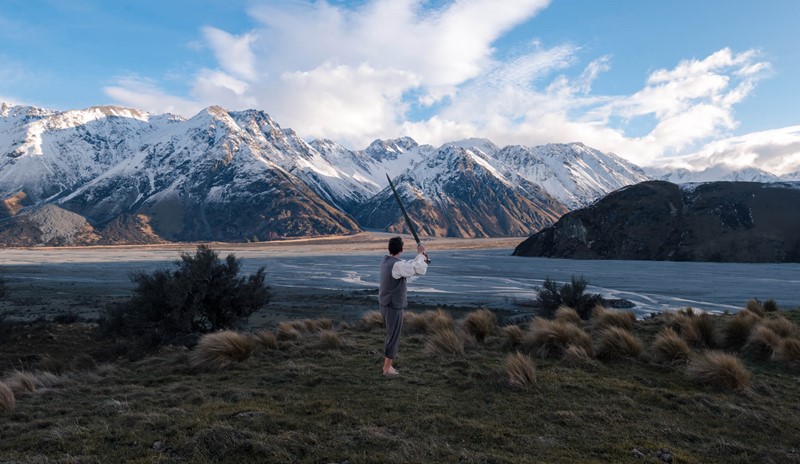 Be sure to park well away from any gates as Colin is operating a working farm. He can advise the best route to take through his paddocks/fields based on current operations. We walked around the south side of the hill and then climbed from the western side.