Be Middle Earth Inspired At Kura Tāwhiti/Castle Hill
Often mistaken for the real movie sets and scenes, be inspired by Middle‑earth™ like locations across Canterbury including the Kura Tāwhiti/Castle Hill.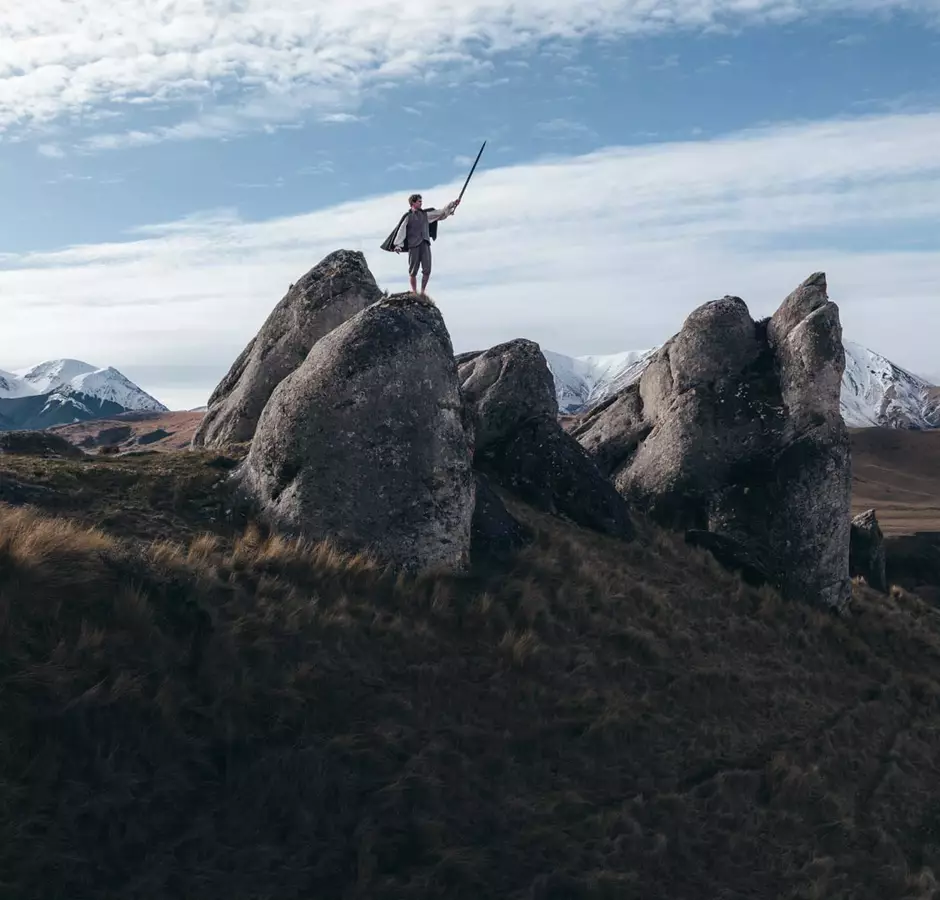 Little over an hours' drive from Ōtautahi Christchurch is Kura Tāwhiti/Castle Hill. Being close makes it easily reachable and accessible for all. The Old West Coast Road State Highway 73 from, is favourite Cantabrian road-trips due to the ever-changing views.
Endless layers of rolling green hills are gradually replaced by blankets of golden tussocks. Carefully twisting and turning your way along the asphalt, the carpets of shimmering gold give way to mighty valleys, roaring rivers and soaring peaks. Before we arrive, let's address a little movie magic. Kura Tāwhiti/Castle Hill doesn't feature in the movies (we apologise for the interruption)... but when you arrive, you'll feel Middle‑earth™ inspired by this ancient assembly of stones.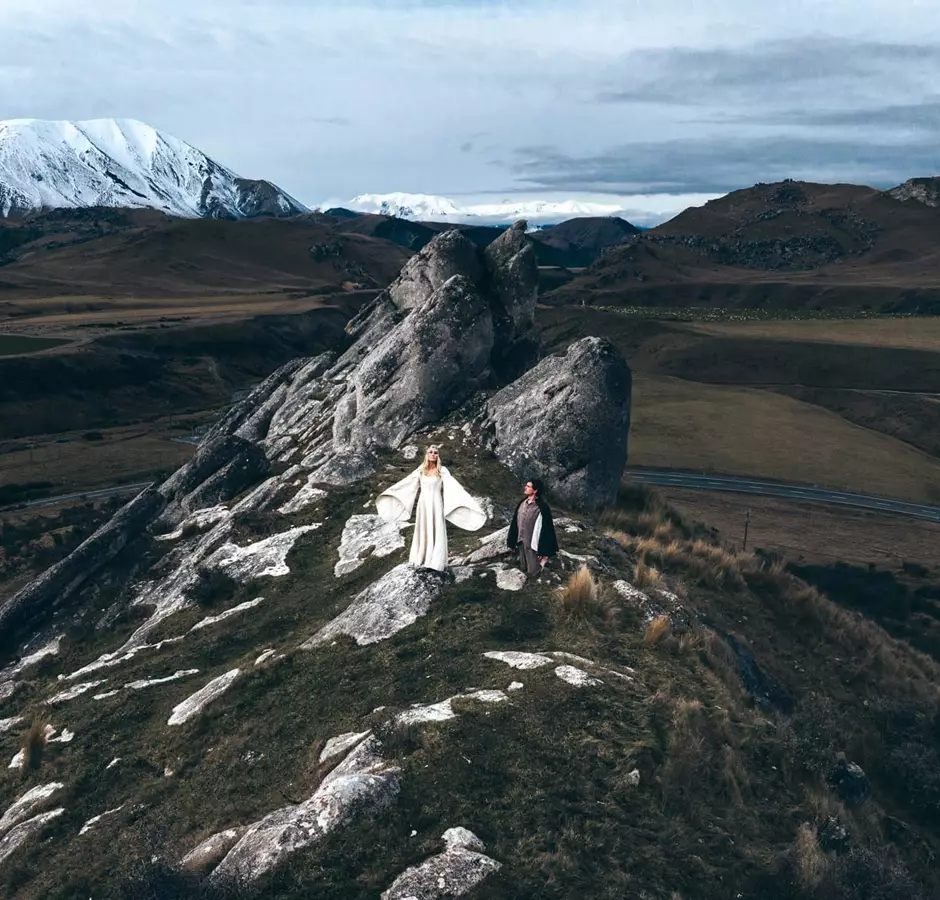 The carpark is well sign posted and makes the walk into the site highly accessible for many young and old. It's not long until you feel the need to make friends with each of the limestone tors crossing you on our way, touching it on your way into the maze before you. Well suited for families, a game of hide-and -seek with kids is bucket list stuff. This place is like an entire kingdom made of stone. One minute you are giants, standing tall and proud, over the miniature rocky formations. Next, you are Hobbits standing in the shadows of Men as the formations tower and soar over you. You'll feel worlds away as dusty snow-trimmed peaks glisten, their mountains towering in the background - only an hour's drive from the central city.
More In Middle‑earth™
Kura Tāwhiti/Castle Hill
Dwarf Directions
Kura Tāwhiti/Castle Hill Conservation Area is 95km (1hr 15 mins) from Christchurch.
There is a large dedicated parking area at the start of the track.
Follow the marked trail and explore the boulders at your own will.
Hobbit's Handy Hints
Given its beautiful scenery and close proximity to Christchurch, Kura Tāwhiti/Castle Hill is particularly busy on the weekend. Time your visit during the week if you would prefer a quieter experience.
Wuthering Heights is a section of the reserve to the north. Climb the hill and head to this section for a deeper, and quieter Middle‑earth™ experience. There are less boulders and more grassy land, it's further away from the crowds and on top of the hill, the vista really resembles the scenery in the Fellowship of the Ring and the Hobbit: An Unexpected Journey.
Be aware that Porter's Pass is often closed during and immediately after snowfall.
For an insight into the current weather conditions, there are two webcams near Kura Tāwhiti/Castle Hill.
Please note: drone usage is not permitted here.
Galadriel's Guide
Allow yourself a minimum of 2-3 hours to explore Kura Tāwhiti/Castle Hill. It's the perfect place to discover at your own pace, taking a picnic and enjoying it atop one of the many boulders.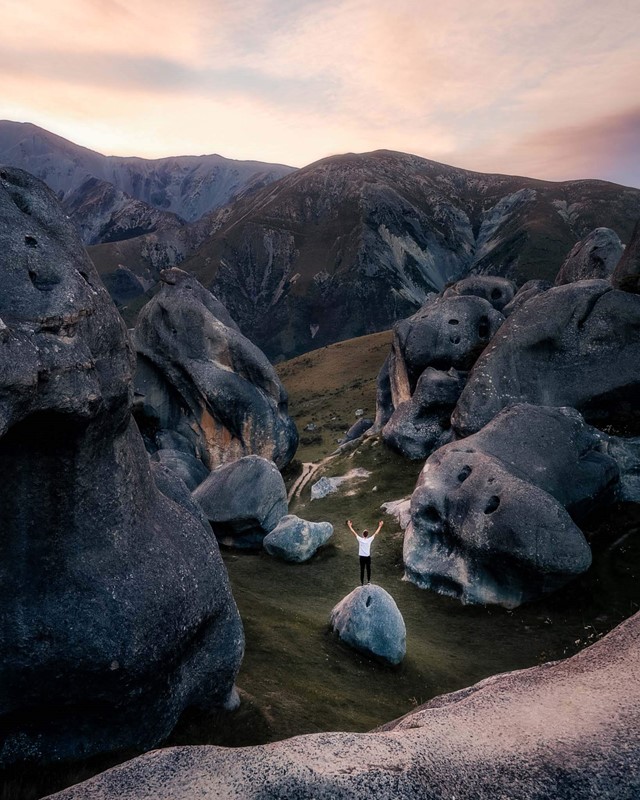 Sheffield is home to a true kiwi icon in the form of a bakery. The Sheffield Pie shop is a must stop for a mouth wateringly delicious pie - start drooling!
If you are feeling more in the mood for a sweet treat, 9 minutes before the Sheffield Pie Shop is the Darfield Dairy, which offers HUGE ice cream scoops. Another quintessential kiwi experience!
For the brave – particularly in the Winter - there is a caving experience only 6km further down the road from Kura Tāwhiti/Castle Hill. Cave Stream Scenic Reserve has a cave passage that meanders and twists its way for almost 600m, with water reaching as high as your waist. To see more details and what you need check out the DOC site.
Whether you're looking for a swim, a scenic picnic lunch, or simply wanting to capture a stunning photo, there is an abundance of picturesque lakes to stop at on the Great Alpine Highway. Our personal favourites are Lake Lyndon (8 minutes before Kura Tāwhiti/Castle Hill) and Lake Pearson (15 minutes after Kura Tāwhiti/Castle Hill).
Kura Tāwhiti/Castle Hill, is also within 40 minutes' drive of Arthur's Pass. Here you are all but guaranteed to see a cheeky Kea (New Zealand's unique alpine parrot) and explore some truly stunning waterfalls.
If you are visiting on a clear night, Kura Tāwhiti/Castle Hill is an absolutely amazing location for stargazing. Photography wise, the possibilities for compositions are endless, and with such little light pollution, it makes for great night photography. Don't forget to pack a head torch!
Frodo's Facts
Although the scenery of Kura Tāwhiti/Castle Hill lends itself to Middle‑earth™ incredibly easily, it was actually never used as a location in the Lord of the Rings or Hobbit trilogies.
You may recognise the scenery from the great battle scene in The Chronicles of Narnia - the Lion, the Witch and the Wardrobe. This was filmed at the nearby Flock Hill, but granted the scenery is very similar to that of Kura Tāwhiti/Castle Hill.
Movie Madness
The one particular scene in the Fellowship of the Ring that often gets mistaken for Kura Tāwhiti/Castle Hill is when the fellowship take rest among a rocky plateau, cooking food and sparring with their swords, on their way to the Misty Mountains. They soon notice a black shape, a flock of Crebain (spies of Saruman) approaching fast and soon the sparring and cooking is all but gone. The frame that first shows this flock of Crebain is particularly reminiscent of the rocks at Kura Tāwhiti/Castle Hill.