Jackie Dennis Shares The Ethos Of Script To Screen
The Screen Office recently chatted with Jackie Dennis who is the Executive Director of Script to Screen for Aotearoa New Zealand. She has been in the role for almost four years and has enjoyed working to support the growth and development of Kiwi filmmakers. 
Script to Screen is dedicated to developing the craft and culture of storytelling for the screen in Aotearoa and they have an extensive range of training programmes for both new and emerging filmmakers. They host various events and workshops including regional storytelling workshops, evening TALKS, and annual conference The Big Screen Symposium.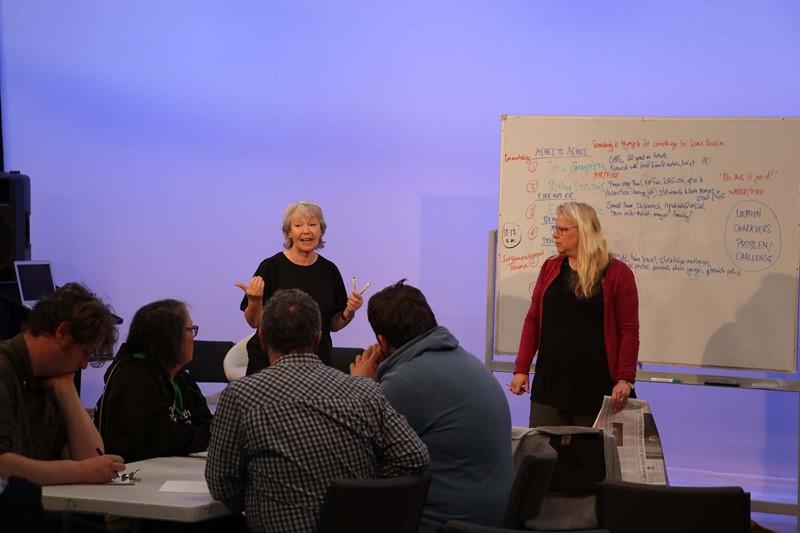 Thanks for chatting with us, Jackie. We'd love to hear a little more about the history of Script to Screen.
Script to screen was born out of the NZWG - the New Zealand Writers Guild. As they are a union, they weren't really set up to do training. So Script to Screen started as a charitable trust focusing on the training and development of Aotearoa New Zealand storytellers.
There was a need for talent and story-based development so we grew very quickly. The current strategic plan is very similar to the original strategic plan. We seek to ensure that screen-based storytelling is practiced, celebrated, and shared here in Aotearoa New Zealand and that we support our screen practitioners to tell exceptional stories that reflect who we are. We do this primarily through running programmes and events that ultimately advance the sector.
Story is clearly at the heart of your mahi.
Yes, if you're doing scripted drama, short films, or features, you must get the story right in the first place. It's the blueprint for what will ultimately be produced so supporting that story development is a critical piece of our work.
Supporting the talent development of our participants is another critical aspect of our work.
Every person goes on a pathway, whether they start at an education provider or start working in the industry straight away. Most tend to start with short films or a web series and then work up to larger projects such as films or tv series with broader audiences. Script to Screen looks to create programmes that can support people who are on varying pathways and at various stages of their development.
When we first started, we ran community programmes along with a professional development programme. The regional or community programmes were set up so that anyone could put their toe in the water for a workshop that only cost $20 to $25 dollars. We also held evening talks which were open to everyone and featured a professional practitioner talking about a specifictopic, usually followed by networking.
The Evening Talks are of particular interest to Christchurch. Most people who attend workshops are very keen to meet up afterwards to network and chat. Networking supports us all to feel connected and facilitating this is one important part of what we do. People often discover us through these kinds of community programmes. Some then go on to apply for the more competitive contestable programmes which are there to support tenacious and talented filmmakers.
Do you have any advice for Cantabrians who are thinking about applying to one of the contestable programmes?
Each one of our programmes needs slightly different advice. Fresh Shorts has the most applications because there are funds attached to it so it is probably the most competitive. It's best to spend the time really making sure your application will stand out.
Story Camp and Film Up get a similar amount of applications but they are quite different from each other. Story Camp is a residential lab that does a deep dive into the script, with advisors, over a 5 day period. Film Up, on the other hand, is a programme that runs over a 6 month period. You need to have a bit of a run on the board such as a short film or television credit to apply.
Participants attend hubs over the 6 months and alongside that work with a mentor for 6-12 months There are a number of resources sitting on our website to support the application process including a whole series of videos from the Paerangi Project that provide a great wealth of information on topics for short films or web series' such as:
What Makes a Good Story?
Story Elements
Writing a Synopsis of Episode Outline
Script Mechanics
Being a Director
Being a Producer
Being a Producer - Advanced
Writing a Logline and Pitching your Idea
Finding a Team and Top Tips
People should never be afraid to apply and we'd encourage anyone to have a look at the resources available on our website.