A Conversation with Rick Harvie of Belmont Productions
The Screen Office recently had the chance to sit down with veteran Christchurch filmmaker, Rick Harvie. Rick's production company, Belmont Productions, has been creating award-winning content for multiple sectors for more than 20 years.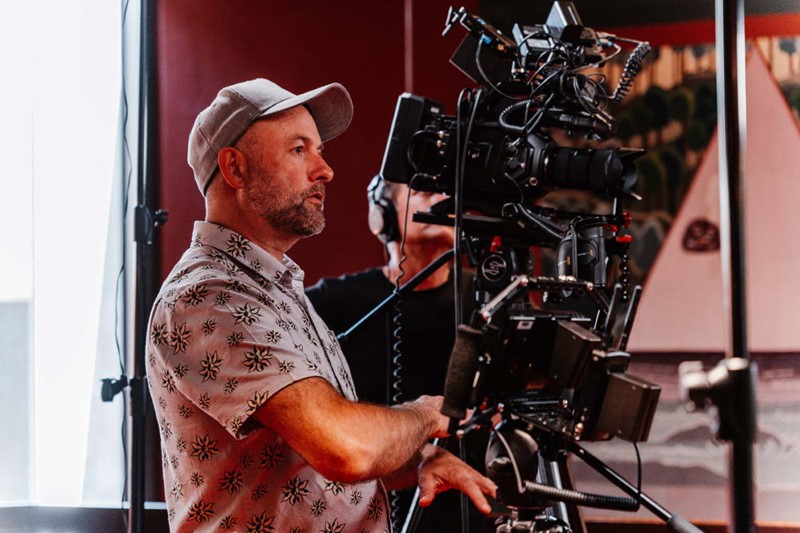 How did you get your start in the industry? 
I studied at the University of Canterbury for three years and completed a psychology degree at Auckland University in 1994.
In that year I took a Film and TV paper with Roger Horrocks, a lecturer there. Roger has always been an authority on everything Len Lye and taught us about his groundbreaking film techniques, which I found incredibly inspiring. I ended up changing my focus and after my graduation, worked in the programming department  at TV3 where I got to see, first hand, how a TV station operated.
I've always played in bands, and at that time, started shooting Super-8 films with my bandmates for fun. I was a camera operator on a ski show in Queenstown for a season, before heading to Europe where I  travelled around playing music, taking photos, and filming my adventures. I ended up in Amsterdam filming contemporary dance as well. I spliced all the film on a reel-to-reel machine and screened those films at the Hogeschool voor de Kunsten, which was the first time I got to show my work in front of an audience.
When I came back to NZ in 1999, I moved back to Christchurch and established Belmont Productions.
Tell us about some of your projects
My first documentary film profiled a team of Australasian surgeons and their journey to Nepal to perform cleft palate operations on the locals. It screened on Prime TV in 2001. I continued filming contemporary dance and theatre, and started creating commercial content.
I produced and directed a short film called 'Johnny Swann The Handsome Thief' which was the start of many enduring relationships with local cast and crew members. These projects set me up.
The original home of Belmont was Red Studios at 82 Lichfield street in a loft where myself and a bunch of other creatives ripped out walls, polyurethaned the floor, and created a big studio for rehearsals, underground live performances and screen production. We were paying $85 a week in rent for the entire floor!
That building is no longer there of course, destroyed by the earthquakes. We produced a heap of content for CERA which resulted in three broadcast documentaries. The most memorable for me was 'Resume Play', profiling the return of cricket to our post-earthquake city, concluding with the 2015 ICC Cricket World Cup opening ceremony and game at Hagley Park. The documentary was broadcast in 67 countries with over 900 screenings — you can view it here.
We also made a film specifically for the opening ceremony which played alongside Hayley Westenra and a full choir of Christchurch school children. It was one of those moments in time where all the pieces came together perfectly — the film was broadcast to millions and showed the world that post earthquake Christchurch was back on its feet.
Tell us about your studio space
In 2015, I bought and converted a former recording studio on Southwark Street, not only to serve as a home for Belmont, but also to house some of the best creative minds in the screen industry. The main production studio is  an acoustically treated multi-purpose space with lighting grid and voice booths, and can be hired out to content creators, agencies and the like. I've often made this space available to the screen guilds and other screen groups committed to upskilling local crew and raising the profile of the region.  
Here's a bit more about what's on offer: www.belmont.studio 
What keeps you busy?
Well, being a father and husband keeps me pretty busy on top of my work at Belmont. A recent refresh of our www.belmont.co.nz website forced me to reflect on our 21 years in the business, and define who it is that we work with. We create content for the Health Sector, Events/Tourism, Architecture/Construction, the Primary Industries, and the Arts.
We've produced a number of music videos over the years. They keep us learning and growing as practitioners, offering a great chance to try out new production techniques, and allowing for experimentation in ways that producing commercial content doesn't necessarily do. We often take what we've learned and apply it back to commercial work. Regardless of the content, we've always been big on the storytelling aspect — the human story is what's most important.  
What are you working on currently?
We're working on a Len Lye documentary, which circles back to my days at Auckland University. This is an absolute dream for me. He's NZ's most internationally recognised artist and many people in NZ have never heard of him, so we're looking to shine a light on this "one-man art movement". USC & Harvard teach about him so it's great to work on something here in NZ — where he's from — to get his name back out in the public consciousness. And he was born in Lyttelton, so us Cantabrians can claim him! 
The Christchurch Town Hall turns 50 this year, and so do I. Pre-quake we were working on a documentary about the building and its history which is still on the back burner. We were lucky enough to get some of the final interviews with Miles Warren and Morris Mahoney recently. It's been great to get back in there again to work with Venues Ōtautahi, and to shoot Ashy's latest music video 'Mirror' in this beautiful space. You can watch the video here. 
What has kept you in Canterbury?
I'm proud to have run a successful business here in Canterbury for 21 years and feel fortunate that we're still around after earthquakes and so much else. I'm used to being agile which you have to be to stay in this business.  
Ultimately, the appeal of Christchurch is the crew I get to collaborate with. I still need to make sure I enjoy myself, and working with people that I love to work with is critical to that. The relationships I've built here over the last two-and-a-half decades have grown into a network of people that I really value working with and know that I can rely on. It's not just about the team though, it's also the clients and people that I meet and the stories they have to share that ultimately inspire me to keep doing what I'm doing.