Sneak Peak Inside Te Pae Reveals River Inspired Curved Lines
Pent-up demand to visit Christchurch will help fill the city's new convention centre Te Pae when it opens later this year, its general manager says.
Giving media an inside preview on Friday, Ross Steele said while Covid had affected international bookings, they had received strong interest from around New Zealand.
Events booked for Te Pae to date will see an estimated 115,000 delegates and guests use the venue.
An exhibition not yet announced is expected to attract around 25,000 mostly local visitors over several days, while the biggest convention scheduled will have close to 1,000 delegates.
Covid-19 delays mean the $475 million construction project will be finished mid-year instead of last year.
After a period of systems testing and staff inductions, Te Pae will host its first events in the second half of the year.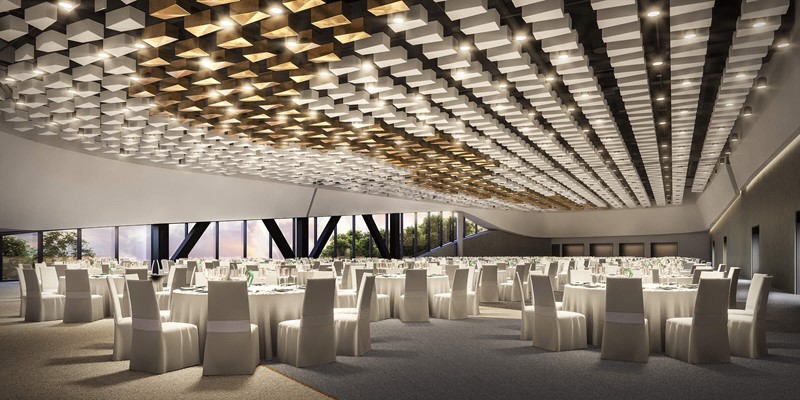 Friday's media visit showed off the building's curved walls and decor inspired by the Avon River on its western boundary.
The vast foyer, reception and function area has floor-to-ceiling windows overlooking the river, while meeting rooms downstairs and the Conway Room upstairs have a view of Victoria Square.
Upstairs, the Rivers Room banquet hall will cater for 1,050 diners.
Te Pae has been designed to hold several simultaneous events.
Fittings include walls lined with timber columns, blue metallic ceiling panels, a 12m-long curved marble reception counter, and slate-grey tiled and carpeted floors.
Artwork will include an illuminated installation called Hana, designed by Ngāi Tahu sculptor Loni Hutchinson to hang above the main stairs.
The 3,600sq m high-roofed exhibition hall can be one large space or divided for smaller events. The auditorium is already fitted out with its 1,400 seats. The venue also has 24 meeting rooms.
About 550 construction workers are onsite, and the Covid crisis has delayed access to some materials and specialist services as well as slowing onsite work.
Crown rebuild agency Ōtākaro is managing the $475m Crown-funded project, being built by Australian company CPB.
Ōtākaro chief executive John Bridgman described the quality achieved in the building as "superb" and said its impending opening is "really exciting" for the city.
The location was ideal as it would link Te Pae to other riverside venues around the central city.

John Bridgman, Ōtākaro Chief Executive
Te Pae will be New Zealand's only purpose-build convention centre when the building opens in Christchurch later this year, he said.
Bridgman said the building had been designed to adapt as new technologies became available, and this had already happened as construction progressed.
Steele said event bookings from around New Zealand had helped fill the venue while international borders remaind closed.
"There's been a pent-up demand to come to Christchurch.
"The [Covid] impact on our business has included events being moved to later in the year, or from one year to the next."
Steele said more than 50 events were booked, including an Asian-Oceanian biochemists congress and the Australian College of Emergency Medicine conference – both this year – and international mental health, disability leadership, and engineering conferences for 2022.
Local MP Megan Woods described the venue as impressive, and noted how its spaces were designed to be flexible and functional.
Orienting Te Pae towards the river helped give it a waterfront feel, she said.
Readying the building for use has meant ordering 12,000 wine glasses, 7,500 beer glasses, over 7,500 cups and saucers, and 4,600 banquet chairs.
Construction materials have included 4,400 tonnes of structural steel, 19,000 cubic metres of concrete and 43,000 facade panels.