Lumière Cinema
Interview With Nick Paris
The Screen Office has had the chance to catch up with the inimitable Nick Paris, one of the current owners of Lumière Cinema located here in Christchurch. Lumière has frequently hosted premieres and special screenings of short films, documentaries, and features - many of which have been created by local filmmakers.
Nick started as a projectionist and worked at many movie houses around the city, eventually getting into programming and from there has gone on to host the NZIFF for several years now. He worked the counter at Alice in Videoland for nearly 18 years and is a very familiar face to cinephiles throughout our region. He offers some great insights into the ways streaming has impacted cinemas and what local filmmakers can do about getting their work screened in this environment.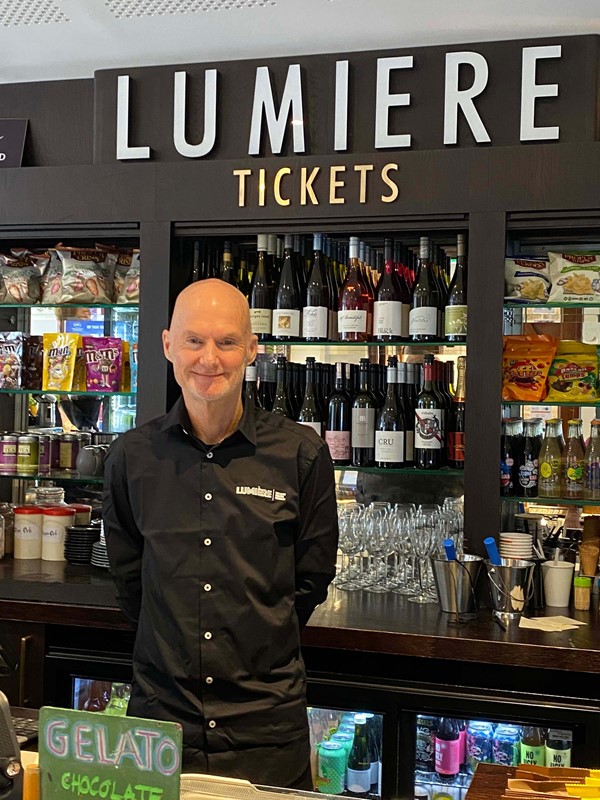 How did the NZIFF go this year after two years of being held online?
At Lumière, the festival was a great two-fingered salute to the "bat virus". The festival has been absolutely hammered by covid - it really stopped (the festival's) progress and momentum - but it's been a great rebound this year. There was a lot of re-engagement. It went extremely well and in terms of numbers, they were back up to 2019 levels.
How were you feeling about seeing films in person, once again?
We've struggled (through covid) at Lumière, but seeing packed houses really warmed the cockles of my heart. The village has gotten together again, and when I mean village I mean the cinephiles and strangers who only come once or twice a year to film festivals. It's kind of like a camping ground - you get to hang out with your mates once a year but you don't know them for the other eleven months. It was great! Cinema for me is an amalgamation of people who all like the same thing. It was a banger... it was a banger to see old friends back.
What are your thoughts on the state affairs of cinema in Ōtautahi Christchurch?
It's no different than anywhere else in the world. Everyday I see major exhibitors going into liquidation. We're still on shaky ground. There's a lot of jelly in the industry - it's wobbling around and it might collapse or shapeshift into something else. It's quite an interesting time and I believe there'll be some change coming out of it.
What changes do you see coming?
Well that's defined by you - the cinemagoer - not the cinema exhibitors. And from what I gather, they want a more upmarket experience. They want food options that are a little bit more bespoke; they want comfort, style, the best in sound and programming. These are the things we've been working on for years. We're just going to have to live with the hybrid of streaming and cinema screenings. We're going to have to adapt and the only way we can do that is to make that experience - from the moment you pick up the phone to buy tickets right to the end - a pleasurable one.
Cinema is a 20th century campfire where strangers can come 'round and watch a film. I feed off the ambience of watching a film in a full house with a bunch of strangers. You don't get that in the home with your cat clawing at you to be fed and your notifications from social media, you know what I mean? There's something not quite there. We've got to trade off that. That's what has been around for a hundred years and that's the secret ingredient - why we're still here in some form. We've got to live with the streaming thing and god forbid, a lot of films are getting lost in a sea of algorithms. At least cinemas can do all the spade work, get the profile up, andthe streaming guys can mop up the rest. For me, the touchstone is getting all those films from Sundance and Cannes and seeing stunning films.
Do you think it's the better films that make it to the cinema?
If I were a film producer spending a lot of money, I would insist on a window, whether it's a month, 3 months, or 6 months - get that spade working in the ground, get the notoriety out there and then a staged rollout of streaming. I think that's the hybrid answer in the immediate future. When I hear a film is going straight to Netflix, it tells me that there's something wrong with it, though that may not necessarily be the truth.
If you were to say something to producers what would you say?
I feel it should absolutely be part of a business plan that there is at least a 1 to 3 month window in cinemas and then on to streaming. Seems to be 60 days to 3 months is pretty much spot on. A lot of cinemas have to squeeze the mop anyway - the longer we keep it on, the cheaper it becomes and the more money we make.
If local filmmakers want to premiere their film in the cinema, what do you have on offer?
It's really important to get that opening night and the momentum flowing. If it's a little bespoke documentary then maybe one or two special event screenings is all that's required. We have an online platform as well, hence I could offer two or three screenings over a week and then put it on our own streaming service, Shift 72. There's a business plan already for these little documentaries.
What's your view on the Canterbury screen ecosystem?
There's a digital campus underway at University of Canterbury which is full of production studios and facilities, so local cinema is on the upswing. Christchurch is a modern technology city now so I think the future's looking flaming bright, to be honest. As long as that pathway from the end of production of a film right through to distribution and screening is a smooth one and not so ad hoc, I think the future's looking bright.
Any advice to local filmmakers?
In the absence of a model for getting your film out there, I think hand to hand combat is best. I would go directly to independent cinemas in New Zealand and do your own mahi with getting your film or documentaries on their screens, so that's my advice - just ring directly and talk directly with the individual cinemas.
Check out Lumière Cinemas.