Christchurch Sustainability Initiatives Showcased At MEETINGS
Sustainability was top of mind at MEETINGS 2022 as more and more business event organisers are looking for ways to make positive impact and leave a lasting legacy.
As host city, Christchurch is aligned to the UN Sustainable Development Goals, and has a goal of net zero emissions by 2045. The city is walkable making for a smaller delegate carbon footprint, and transport options include electric car shares, e-scooters and e-bikes, and electric public buses to and from the airport.
Christchurch Airport was the first airport in the world to be awarded Level 4 Airport Carbon Accreditation – the highest possible rating, it's decreased its emissions by 90 per cent since 2015, and they're building a 400-hectare solar energy park.
The city's key venues have sustainability at their core – Te Pae Christchurch Convention Centre holds a 5-star NZGBC Green Star Design rating and Toitu enviromark gold certification. Food waste is processed on-site to reduce waste by 85% and the rest is turned into organic fertiliser for community food gardens.
Locally sourced food and beverage was showcased at the welcome function at Christchurch Town Hall, with Venues Ōtautahi sourcing 87% of their food and beverage from within Canterbury.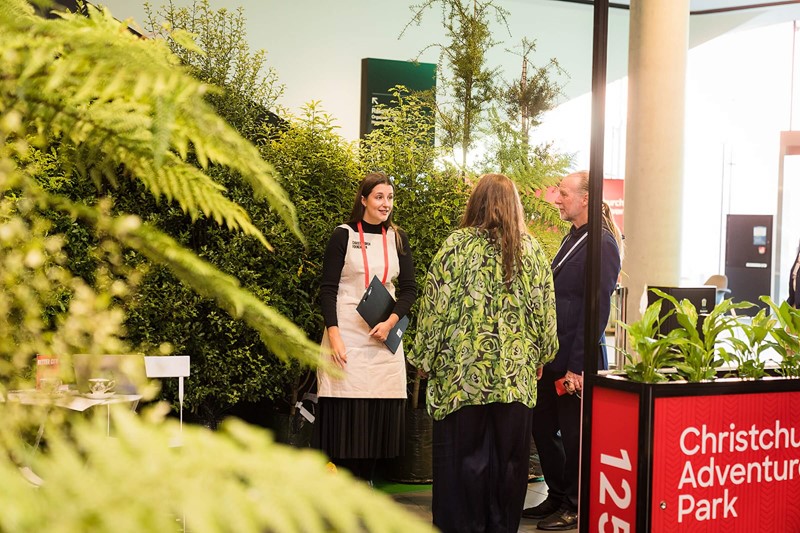 ChristchurchNZ showcased two local initiatives with a sustainability message at MEETINGS this year.
The Christchurch Foundation's Tūī Corridor project is one example of how conferences can give back to greater Ōtautahi Christchurch by helping plant native tree seedlings to encourage native tūī birds back into the city. The Foundation works with event organisers to develop a bespoke legacy programme for each event that makes an impact.
Founded by Christchurch local, Bridget Williams, Bead and Proceed is a social enterprise educating people on the 17 UN Sustainable Development Goals (SDGs). They offer a range of tactile workshops and experiences and have curated an inspiring activity perfect for conferences, summits and events: "Bead & Proceed Impact".