From The Wilderness To 1979 Post-Punk Christchurch And Beyond
Canterbury's Diverse Locations Soon To Be On Show
From a film crew blocking New Regent Street to Elijah Wood being spotted in a Four Square, the hustle and bustle of cast and crew has been palpable across Canterbury these last eight months. And now, six productions that the Screen CanterburyNZ production grant has helped fund have wrapped and are into post-production phase.
The Screen CanterburyNZ production grant is an incentive that distributes $1.5 million of funding over three years. It aims to attract more productions to Canterbury as well as providing the ability to employ local cast and crew for upskilling and promoting a strong creative economy. The six latest productions are an impressive and diverse range of genres that will further showcase the region to international eyes.
Here are the latest Canterbury-based productions coming to a screen near you:
Head South | Feature Film
An authentic backdrop was a pivotal piece of Head South, a feature film set in post-punk 1979 Christchurch which filmed in various locations around the city. One of the inaugural recipients of the Screen CanterburyNZ production grant, the film is produced by Antje Kulpe (Get Krack!n, Lone Wolf, Superwog) and is written and directed by Jonathan Ogilvie (The Tender Hook, Lone Wolf). Ogilvie said "Head South is a film with heart, drawn from his experiences growing up in Christchurch and performing in local bands".
It stars Marton Csokas (Lord of the Rings, AEon Flux, Juniper, The Luminaries) and Ed Oxenbould (Paper Planes, Wildlife) with Kulpe making it her ethos to try and get local cast and crew from the South Island with 45 of the 60 crew members and 60% of the cast from Christchurch.
Went Up The Hill | Feature Film
This New Zealand/Australian production is co-produced by Vicky Pope (Savage), Samantha Jennings and Kristina Ceyton (The Nightingale, You Won't Be Alone) of Causeway Films and Christchurch-born writer/director Sam Van Grinsven (Sequinin a Blue Room) returned home to direct.
Filmed in and around Canterbury and starring Vicky Krieps (The Phantom Thread, Corsage) and Dacre Montgomery (Stranger Things), Went Up The Hill follows the journey of Jack, abandoned as a child, who ventures to remote New Zealand to attend the funeral of his estranged mother. There he meets her grieving widow, Jill. But his search for answers becomes dangerous when his mother's ghost returns to inhabit both Jack and Jill, using each of their bodies to speak to the other, instigating a life-threatening nocturnal dance.
Dark City: The Cleaner | Drama Series
This much anticipated 6x1 hour series based on Christchurch writer Paul Cleave's work that was filmed in the heart of Christchurch City, wrapped in May.
Helmed by veteran local screen producers John Barnett and Chloe Smith, the series received a $200,000 regional production grant from ChristchurchNZ and is produced in association with New Zealand Government's Te Puna Kairangi Premium Productions for International Audiences Fund and NZ On Air. The series will screen on Sky as part of the Sky Originals NZ slate in Aotearoa, with international distribution by Lionsgate.
Te Motu | Feature Film
Te Motu was produced by Morgan Waru (Ngāti Porou) and Polly Fryer, directed by Josephine Stewart-Te Whiu (Ngāpuhi, Te Arawa) and written by Maddie Dai with additional writing by Josephine Stewart-Te Whiu. Te Motu stars an incredible lineup of talent including acclaimed actor Rima Te Wiata, (Ngāti Raukawa) (Hunt for the Wilderpeople, Housebound), Erana James (Ngāti Whātua Ōrākei and Waikato Tainui) (The Wilds, The Changeover), Nathalie Morris (Bump, Petrol), and new talent Manaia Hall (Ngāi Tūhoe, Ngāti Manawa, Ngāti Pukenga).
Set in the 1950s, the film follows the friendship of three misfits determined to rebel against the system.
Bookworm | Feature Film
After collaborating on Come To Daddy in 2018, Director Ant Timpson enticed Elijah Wood back to star in this mystical adventure set in the wilderness of mid-Canterbury. Bookworm is the story of 12-year-old Mildred whose life takes an unexpected turn when her estranged, washed-up American magician father, Strawn Wise (Wood), comes to care for her. Strawn takes Mildred camping in the rough New Zealand wilderness, which sets up an unavoidable test to bond while searching for the mythological beast known as the Canterbury Panther.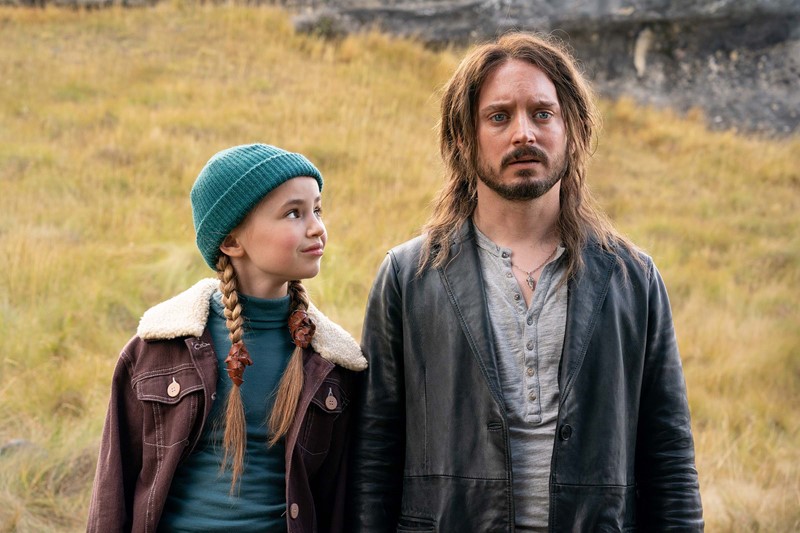 Produced by Emma Slade, Roxi Bull and Victoria Dabbs of Firefly Films and Mette-Marie Kongsved and Laura Tunstall of Nowhere, Bookworm was written by Toby Harvard (Come to Daddy, The Greasy Strangler), and also stars Michael Smiley (Kill List, Bad Sisters, The Lobster), and Nell Fisher (Evil Dead Rise, Northspur, Choose Love).
Friends Like Her | Series
Executive Producer Philip Smith said they are incredibly proud to be partnered with Screen CanterburyNZ and Kaikōura was the dream setting for the thrilling dramatic experience that is Friends Like Her. The series — written by Sarah-Kate Lynch — explores a close friendship that turns sour when a surrogacy deal goes wrong. Set in post-earthquake Kaikoura, the series has been picked up internationally by Fifth Season and will screen on Warner Bros. Discovery (TV Three) in 2024.
The production grant is the first regional incentive of its kind in Aotearoa and Canterbury has received a valuable return on a $1.5 million dollar investment. A substantial number of Canterbury cast and crew were employed for a total of 240 days and due to production activity, the total spend in the region has exceeded $14 million.
Applications for round six of the grant closed on July 1 with announcements to be made on July 28.