Explore
Explore Your Place with Annabel Turley
Explore Your Place with Annabel Turley
Independent owner of Unichem Cashel Pharmacy and chairperson of the Christchurch Central City Business Association (CCBA).
Tell us about what you do
I've been in pharmacy for over twenty years and a pharmacy owner for just over nine years. I operate three pharmacies in the city – Unichem Cashel Pharmacy, Christchurch Central Pharmacy and Unichem Forté Pharmacy.
We take a holistic approach to health and wellness. We treat our customers like family and really focus on providing excellent advice and support on a huge range of topics – from stress and weight loss to appearance medicine and family health.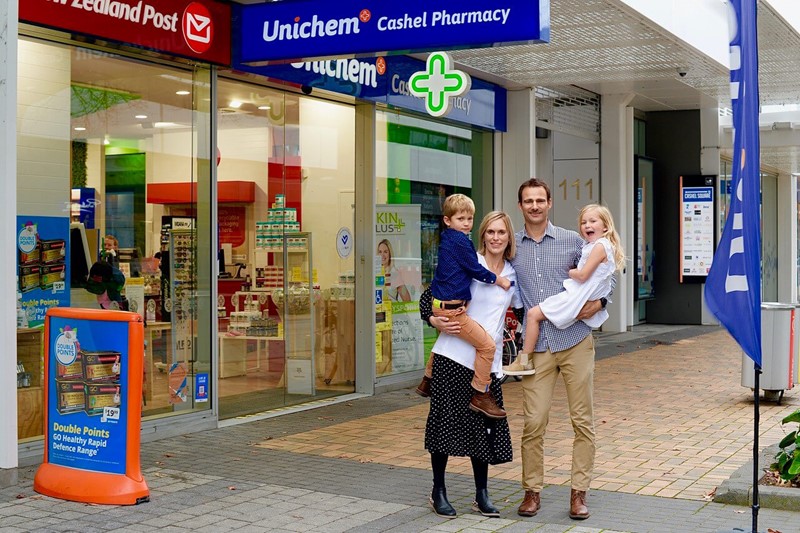 How has COVID-19 impacted your businesses?
We had an 80 per cent drop in business during the Level 4 lockdown, it was really, really challenging. We knew it would be tough, but we made the call to stay open as we felt it was important for people to continue to be able to access advice and support and for us to remain top of mind with our customers.
What have you had to do differently?
We've opened an online pharmacy, which has been really popular and provides a same day delivery service during weekdays. It's been fantastic to see our customers supporting this new service – it really made a difference when people weren't able to get out during lockdown and it's something we'll continue to provide.
Why do you love Christchurch?
I love that on the same day you can be at the beach or up the mountain. We've got such a great location here with amazing outdoor landscapes to explore. I love the city, there's so much happening and so many great shopping, eating and drinking options, and it's all so easy to get around by car or bike.
What is your view on why supporting Christchurch businesses matters right now?
Every dollar spent in a local business goes back into our community and our economy. It's more important than ever to support businesses who are fighting to stay open.
Across our pharmacies we promote local companies, we've got a stand which showcases locally made products and if people are shopping for a gift, we always show them what's locally made.
How do you suggest people support Christchurch businesses?
Where you can, shop locally. Or follow local businesses on social media and comment or like their posts – it's all appreciated and helps promote the business.
Which local Christchurch business(s) would you like to give a shout out to?
Oooo there's lots – I love shopping in the central city. Greta at Head Over Heels has a beautiful range of shoes and boots. Little Fish Co in the Riverside Market have local fresh seafood available every day. Fresh Choice in the central city has been a life saver for me as a working mum, with their click and collect option.