Why Christchurch is still NZ's most affordable major city
Ōtautahi Christchurch has continually been referred to as New Zealand's most affordable city. But recent articles have cast some shade on this claim. Jorge Chang Urrea, ChristchurchNZ's Senior Economist talks to us about what affordability means and if Christchurch, New Zealand's second-largest city, can still claim the top spot.
What does 'affordability' mean?
Jorge: Affordability is a term used by economists to compare the ratio of income to house prices. Essentially how much of a person's income is taken up by mortgage repayments.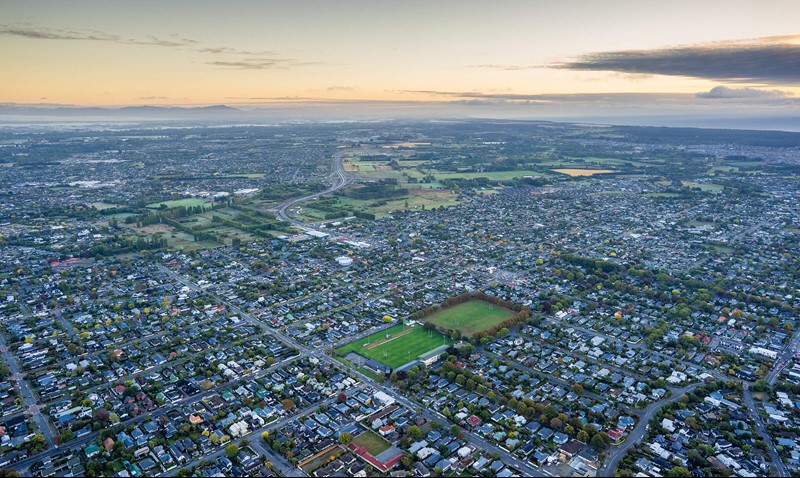 How do Christchurch's house prices compare nationally?
Jorge: Christchurch continues to have the lowest median house price out of the three main centres and lower than the New Zealand average.

For example, in August 2021 the median house price in Auckland was $1,200,000, whereas in Christchurch, it was almost half this at $650,000.
The other factor to calculate 'affordability' is income. Has the average income kept pace with the growth in house prices?
Jorge: During the last decade, the average weekly median household income in Canterbury has been $1,543, slightly above the national figure ($1,529). Also, during the same period, the average unemployment rate in Christchurch has been 4.6 percent, below the national unemployment rate (5.1 percent).

In Canterbury, from 2016 to 2019 annual average income growth was higher than the average growth rate of the median house price (For example the average income increased by 3.9 percent per year vs median house price growth of 2 percent per year).

Canterbury's average income continued to increase in 2020 and 2021 by 2.5 and 4.4 per cent respectively. But it is during these two years that house prices have seen some of the strongest growth – outpacing income growth.

Yet still, Christchurch residents contribute less of their overall income to their mortgage than those in Wellington and Auckland. In Canterbury 18 percent of the average income goes to a mortgage, compared to Auckland at 39 percent and Wellington at 30 percent.

So putting the two factors together – house prices and income, where does Christchurch come on the affordability scale?
Jorge: The graph below perfectly demonstrates how Christchurch compares (the higher the ratio, the less affordable the region). You can see a national upwards trend putting pressure on affordability driven by strong growth in house prices, yet overall Christchurch remains the most affordable across the main centres and compared to the New Zealand average.

Christchurch's housing affordability ratio at 5.9 sits below the national average (8.1) and is actually the same as in June 2007.

Of all the cities in New Zealand (13 of them), Christchurch the country's second-largest city is the second most affordable. Only Invercargill is more affordable, with a housing affordability ratio of 5.1, whilst the less affordable cities are Tauranga (with a ratio of 10.5), Napier (9.2) and Auckland (9.2).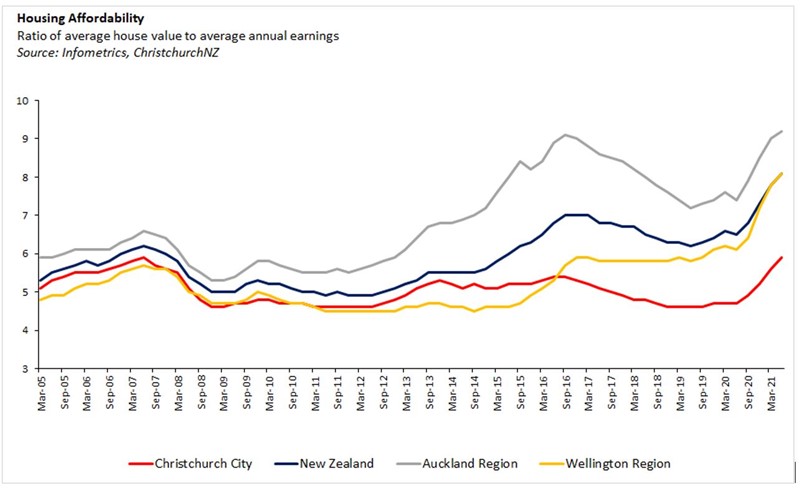 Do you expect Christchurch to remain the most affordable city?
Jorge: I think Christchurch could remain one of the most affordable cities in New Zealand. The city has been experiencing high growth rates in terms of number of new residential buildings consents. In August 2021, the number of consents compared to August 2020 grew by almost 67 percent, compared to the national increase of 42.3 percent (in Auckland it increased by 55 percent, whereas in Wellington it fell by 32 percent).
This means that in the short and medium-term the supply of houses will increase, potentially dampening the ongoing increase in house prices.
Christchurch is also proving to be an attractive destination for businesses looking to expand or relocate – due to the availability of land, growing talent pool fed by world-class universities and the city's proximity to air and seaports. If the city continues to attract these high value businesses, which in turn provide employment opportunities, then the affordability of New Zealand's second largest city seems set to continue.