Explore
Family Friendly Skiing
Family Friendly Skiing
Canterbury has numerous family-friendly ski fields to choose from, where in many cases children ski for free. Check out our summary to help you decide where to take your young ones for a dose of snowy excitement this winter.
Mt Hutt
Mt Hutt claims to be "the most family friendly mountain in New Zealand" – a lofty statement, but there's a lot to back it up. The ski area has been voted New Zealand's best ski resort for five years running at the World Ski Awards.
Ski Area Manager James McKenzie says children from three months old to 17 years are catered to with awesome programs and facilities. There's an on-mountain, fully-licenced early childhood centre for babies and toddlers and children 10 and under ski for free. "For younger ones, activities stay indoors, but as they get older activities move outdoors; at three years they are learning to ski in the dedicated Skiwiland instruction area," says McKenzie.
From ages five and upwards, children progress to the 'Kea Club', which is a full instruction day program. "For mums and dads, that means convenient, inexpensive, full-catered good times. [We're] recognised for [our] friendly vibe, Kiwi hospitality, family-friendliness and great terrain."
Mt Hutt has four freestyle terrain parks, which are hugely popular with older kids and young adults. "We run a series of competitions during the season to support young athletes and those that just have fun hitting the park," McKenzie says.
Porters
Porters offers the nearest skiing to Christchurch (the turn-off is just an hour's drive), which means less time on the road and more on the snow. The ski area boasts remarkable vistas encompassing Lake Coleridge and the Southern Alps and its varied terrain is suitable for skiers and snowboarders from beginner to expert.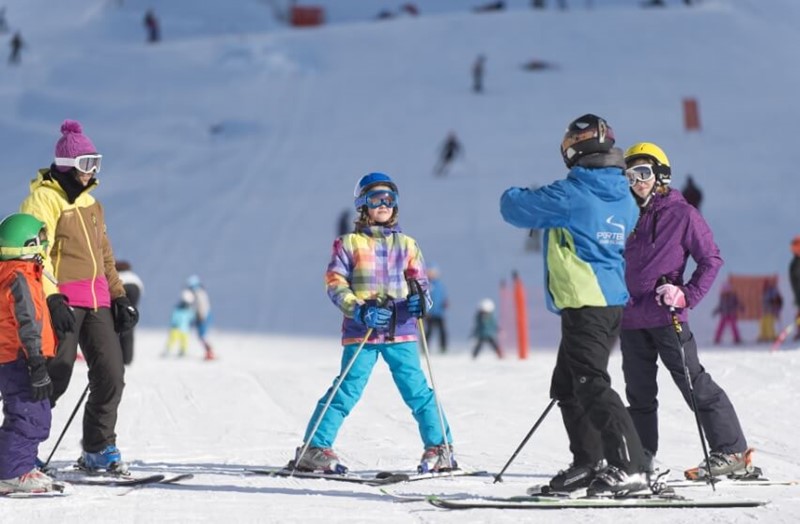 "The beginner and intermediate slopes sit alongside each other, allowing seamless progression for children," says spokesman Alan Lelieveld. "As an added benefit these slopes are in close proximity to the carpark and café meaning parents [can easily] enjoy a coffee and watch their children ski." Children aged 10 and under ski for free and there is a new pass structure to give you #MoreAtPorters. 
Mt Lyford Ski Area
Mt Lyford Ski Area is family friendly as it is family owned and operated, which is 100 per cent.
Resort manager Hamish Simpson, whose father built the ski area years ago, says it is set up perfectly to cater for entry-level and intermediate skiers and snowboarders. It has gentle rolling terrain, a centrally-located day lodge with rental equipment available and all main runs are groomed daily. The Terako Day Lodge is right next to the learners' slope and the main intermediate lift – Paradise Valley Platter, "so parents and grandparents can enjoy watching the children progress", says Simpson.
Children under seven ski and ride for free and a youth day pass for ages seven to 17 is $40.
"For those not wanting to ski there is a snow tubing luge – great for a thrill or to tow the little ones around in."
Hanmer Springs Ski Area
Hanmer Springs Ski Area offers a truly affordable, grassroots snow experience. Despite being a small operation, it has a fantastic beginners area – an easy walk from the warm day lodge, which is serviced by a fixed-grip learners' rope tow.
The ski area has a Poma and rope tow for more experienced skiers. It is run by a small staff, supported by a volunteer ski club – so friendly faces and advice on how to use the rope tow are never far away.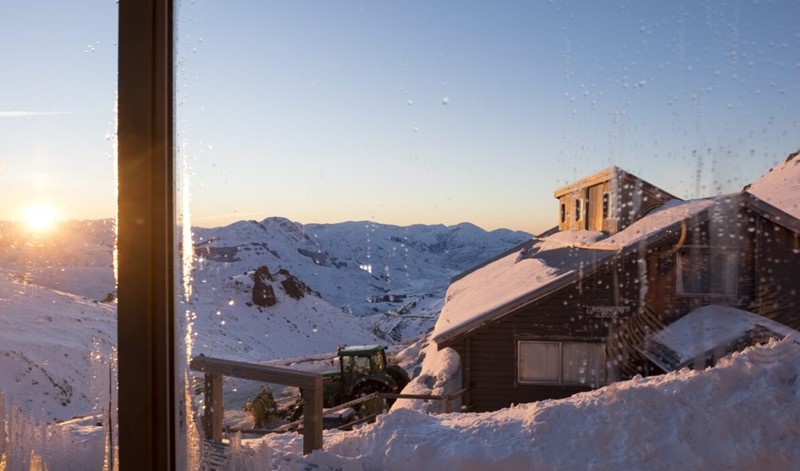 Hanmer Springs Ski Area has a parents' pass, allowing couples to have turns skiing and staying in to care for their child, without having to buy a pass each.
The day lodge has a mezzanine floor with toys, sofas and large windows with a view of the slopes to make sure no one misses out on the action.
Outside there is a nice big flat area for playing, digging snow caves and towing sleds up and down a small slope.
Roundhill Ski Area
Roundhill Ski Area is located on the Tekapo side of the Two Thumb Range and offers groomed trails with plenty of natural dips and curves. It offers a great first timer's ski package, which includes a beginner's lift pass, gear rental and a 1.5-hour lesson, which is $80 for children 17 years and under. Children who are five years and under ski for free.
MT. Dobson Ski Area
MT. Dobson Ski Area is an owner-operated ski area with a relaxed atmosphere and dramatic vistas punctuated with piercingly blue ice-fed lakes. With regular snowfalls and wide-open slopes, it has good skiing and snowboarding conditions for families, beginners and intermediates.
"We have a relaxed family-friendly atmosphere, a large sunny beginners' area and great trails for beginners to progress and improve their skills," says business and marketing manager Mike Smith. 
Children under five ski for free (excludes equipment hire and lessons) and the ski area even has a purpose-built toboggan area, with sleds available for hire – perfect for those that don't ski or ride. The on-mountain Foote Rest Café is a great place to refuel and relax, with a barista-made coffee or famous Fairlie Bakehouse pie.
Fox Peak Ski Area
Fox Peak Ski Area is 35 kilometres from Fairlie and has a "legendary" family-friendly atmosphere, says spokesman Blair Wilkinson.
"Our fully-groomed learners area and lower slopes provide safe, even ski runs for beginner to intermediate skiers." The ski area offers free lift passes for children aged 10 years and under and has a comfortable day shelter and sun deck.
Lift passes for youth aged 11 to 16 years are $20 and student passes are $35 – student identification is required.
There is accommodation on the mountain at Fox Lodge, which sleeps 40 with bunk rooms for families, cooking facilities, drying room and hot showers. Fox Peak has five lifts – mostly rope tows and a 200m platter lift.
Ski hire is available off the mountain at the Ski Shack in Fairlie.
Ski and Snowboard Hire
Most ski areas offer on-mountain gear hire but it's worth checking to make sure before you go. Gnomes Alpine Sports in Darfield, McEwings Ski & Snowboard Hire in Christchurch and the Ski Shack in Fairlie are good off-mountain options.