Business
Food Fibre and Agritech Student Case Study
NZ Education Fuelling Food Innovation Careers
Rising to the Top – Manmath Bejkarf
Christchurch is the place to achieve food innovation dreams according to post graduate student Manmath Bejkarf.
The First Choice for Food Study
In a few months Fonterra Lab Technician Manmath, will welcome his family from India to Canterbury and take them on a tour of New Zealand where, as he says, 'every nook and cranny is beautiful'. 
New Zealand has been home to Manmath since February 2017, when he arrived to study his Masters in Food Innovation at Lincoln University. Following his study he secured a job at New Zealand's global dairy nutrition company, Fonterra. 
Once completing his under graduate studies in Mumbai, Manmath who has a keen interest in food science and the dairy industry, looked globally for the best location to secure his post-graduate education.  New Zealand jumped out to him as the ideal location. 
Canterbury was a natural choice. It is the country's largest agricultural region, contributing one fifth of national agricultural GDP, employing 19,000 people in agriculture, fishing and forestry and further 14,400 in agricultural production processing.   
The region's fertile plains, temperate climate and good access to water give the region a natural physical advantage, which has in turn bred advancements in agritech, education and future focused businesses, making the region home to a rich testbed of innovation.  
Canterbury also has one of the largest concentrations of land-based researchers in the Southern Hemisphere located on the Lincoln University campus just outside Christchurch, with the University of Canterbury providing tertiary education and research in associated industries, including engineering and software.   
A New Way of Life
Manmath was well prepared for the lifestyle change that a move from bustling Mumbai to the serene South Island would involve. A slower pace of life is complimented by friendly locals and an open, easy going working environment. 
"Here in New Zealand there is far less hierarchy in the workplace compared to India, I can easily have a coffee and a chat with my manager with no need for an appointment. My colleagues are friendly and always happy to help – it's a great workplace." 
Prior to securing his job at Fonterra, Manmath completed a Christchurch Educated Job Ready Programme which included mentoring and a series of workshops to equip him with job seeking skills and prepare him for the kiwi work culture. This in turn lead to business connections in the food science industry and ultimately, his job with Fonterra.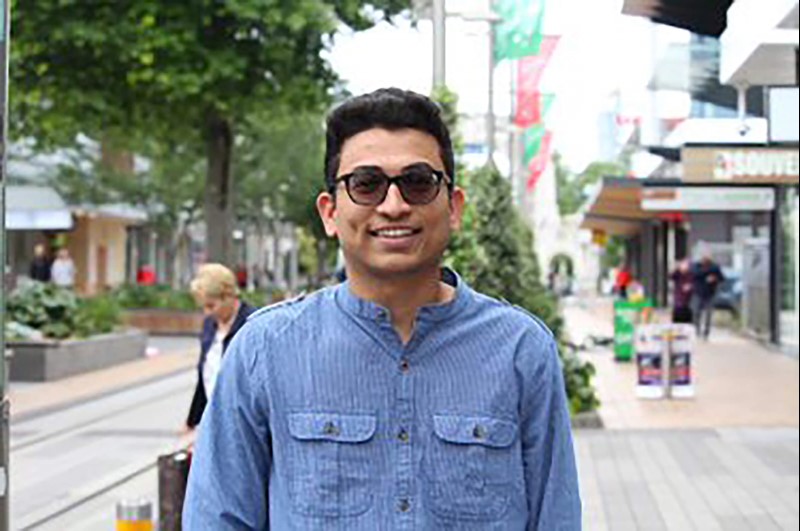 Perhaps the highlight of Manmath's time here was completing summer school at Lincoln University, where he was able get experience in his 'dream job' of new product development.  
Manmath put his bio chemistry and food innovation knowledge to good use, developing a gluten free bread made with acacia seeds. 
"There isn't a lot known about the use of acacia seeds, the research looked at the viability of their use in a gluten-free bread. The seeds have more fibre and less fat compared to alternatives – they are very different to the commonly used chia seeds." 
It's this type of innovation which really excites Manmath and being part of a global company such as Fonterra gives him the opportunity to develop his career path in this direction. 
Being a lab technician is excellent experience for a career in the food science industry. Fonterra is an innovative global company and there are so many opportunities to develop my career here and become a new product developer in the future.

Manmath Bejkar
The Right Path
So will Manmath be offering his family a world-first taste of gluten-free acacia bread when they arrive for their holiday? 
Apparently not.  
"There is still a lot more work to go into the sensory attributes and customer acceptance," he laughs. "But that's what product development is all about – trial and error eventually leads you to the solution."  
It seems Manmath is certainly on the right path to achieve his food innovation dreams here in Canterbury - his New Zealand education combined with workplace experience has truly put him on the path to success.