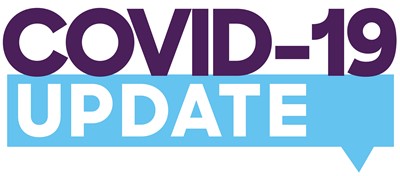 The Essential Services Economy in Canterbury
By Dr David Dyason and Dr Peter Fieger, ChristchurchNZ economists
With the 4-week ban now in place and only essential services allowed to continue, many roads, shopping centres and office parks will be quiet. However, not all activity has come to a halt and not all areas or economies are affected equally.
Government specify that the lock-down necessitates, "New Zealanders not working in essential services to stay at home and stop all interactions with others outside of your household" and that "essential services and those that support them will continue to provide the necessities of life for everyone in New Zealand".
This report provides insight into the economic value associated with these essential services industries within the Canterbury economy. Although essential services continue to take place, this does not mean all non-essential activity has come to a halt as many activities have been moved online from office areas to homes and will continue to contribute to economic activity for the region. However, most activity in the hospitality industry has come to a standstill.
The list of essential services provided by the government is used to quantify employment and the level of economic activity associated with these services.
Jobs
In Canterbury, approximately 123,800 people (2019) are employed in the essential services which represents 40.6 percent of all employment within the region. This represent an almost identical situation to the national economy where 40.4 percent of employment is on essential services.
Transition to a skeleton job schedule is likely in some industries during this period. The services with the largest employment are health (31,900 jobs); food production and processing (29,700); supermarkets, wholesalers, pharmacy and accommodation activity (25,200); banking, scientific, government and safety (15,100); warehousing, telecommunication and distribution (13,600); utilities and maintenance (7,000) and other health-related processing activity (1,200).
A detailed look at the territorial authorities within Canterbury reveal how the economic structure of these economies affect the employment in activity. The most revealing result is that in both Waimate and Hurunui district, the number of people employed in essential services is at 73 percent and 68 percent respectively.
Both these districts have strong food production and processing activities. In theory, the implication is that both these areas will experience relatively less disruption to employment compared with other regions where this share is lower.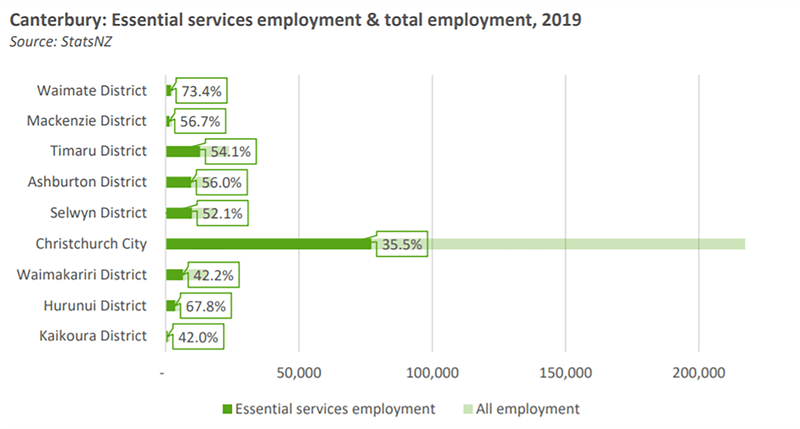 Economic Value
The value of economic activity associated with these services represents approximately 31 per cent of the Canterbury economy (2017 values). The contribution of these services has stayed relatively stable over time.
Our Canterbury Economy
The economic value of the essential services for Canterbury has an important role to play, as it contributes nearly a third of the value within the economy. What is more important is that these services are relatively large employment driven industries that enables our economy to operate.
Food production and processing services are of particular importance, with a share of 24 percent of essential services employment in Canterbury and as a large exporter of goods amounting to $6.7 billion or 66 percent of all exports in 2019 for the region. Continuation of these activities would ensure that trading of our most important commodities continues to take place.
Media enquiries regarding COVID-19