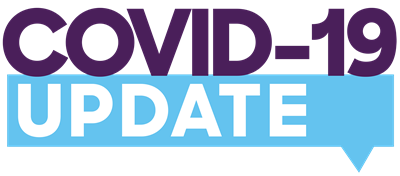 Supermarkets in Christchurch in the COVID-19 environment
By: Manon Julien and Dr Peter Fieger, ChristchurchNZ economists.


Groceries and Liquor Retail Spend for February 2020
Panic-buying has occurred following most major announcements by officials on coronavirus despite government assurances that supermarkets are deemed an essential service and won't encounter any supply issues - even at alert level four. This hasn't stopped people from taking to supermarkets in their droves leaving empty shelves in their wake.
In the month of February 2020, we saw the beginning of the impact of increased buying activity as spend on groceries and liquor grew 7 percent to $160m when compared to the same month of the previous year. This is significantly greater than the two months previously which both only saw 2 percent growth when compared to the same month of the previous year.
Increased pressure on supermarkets due to panic buying is likely to have an effect on spend, employee numbers, share prices and more. The economic value of the supermarket industry and impact of changed consumer behaviour will be outlined below.
Industry size
In 2020 (YE February) locals spent approx. $2b on groceries and liquor which represents 36 percent of all spend in the greater Christchurch region. Already we can see the impact of COVID – 19 as spend in supermarkets grew 7 percent in February compared to the 2020 monthly average of 3 percent.
Grocery spend in greater Christchurch represents only 1 percent of all visitor spend in the wider region for 2020 (YE January) therefore recent border entry restrictions and mandatory self-isolation are unlikely to have an impact on supermarket spend. Suburbs with major supermarkets have experienced above normal growth as seen below.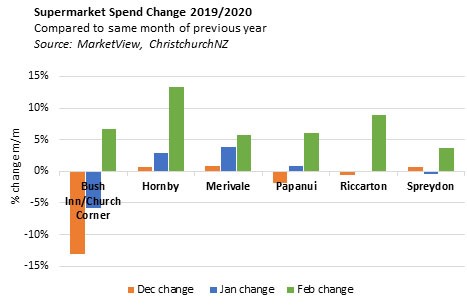 Retail Spend in the week ending 22 March 2020
When considering New Zealand for the week to March 22, total consumer spending was up 16.5 percent whereas transactions only increased 0.4 percent when compared to the same week of the previous year. This suggests that people were making larger than usual purchases in supermarkets.
As expected, New Zealand wide supermarkets and dairies saw an increase of spend of 59 percent from the same week last year, and other food was also up, by 45 percent.
A similar picture is painted for Christchurch for the week to March 22 with total consumer spending up 12 percent and spend on food, liquor and pharmacies up 53 percent on the same week last year .
Employment by supermarkets
In greater Christchurch, 7,360 people (2019) are employed in supermarket and grocery stores which represents 3 per cent of all employment within the greater Christchurch area. This represents an almost identical situation to the national economy where 3 percent of employment is in supermarkets and grocery stores. When considering the number of grocery workers nationwide, 12 percent of all grocery workers are employed in greater Christchurch. As supermarkets grapple with a surge in demand created by Covid-19 the demand for staff is likely to increase which is likely to be reflected in the numbers in the coming months.
Price
Excessive buying has led to shortages of essential products on shelves and hoarding of essential supplies such as toilet paper has been widely reported in the news. Overseas developments suggest that business processes are being tested by this unforeseen demand and it is impacting the whole supply chain for some organizations. With an increase in demand for supermarket goods and increased input prices for suppliers due to pressure on logistics means there is also a risk that prices for supermarket goods will rise, as has already been alleged in the media*.
Business values
Excessive buying and hoarding could be expected to lead to significant increases in value of major supermarket businesses. At this stage this doesn't appear to be true for the two major listed Australian grocery retailers, Woolworths and Coles (see graphs below). Of these two, Woolworths is also the parent company of Woolworths NZ, Countdown, Fresh Choice, and Super Value.
Woolworths Share price

Coles Share price

[1] Note: Christchurch figures also include pharmacies.
* https://www.stuff.co.nz/business/120666733/supermarkets-coming-under-scrutiny-over-lockdown-prices
Media enquiries regarding COVID-19