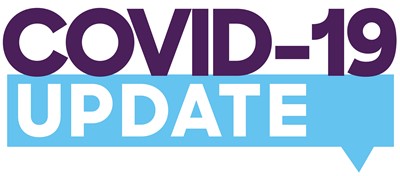 Canterbury Manufacturing Industry in the COVID-19 Environment
Canterbury Manufacturing Industry in the COVID-19 Environment
Background
By: Manon Julien & Dr David Dyason, ChristchurchNZ economists.
Manufacturing provides jobs for 36,000 people in Canterbury and contributes $4.1 billion or 11.4 percent to the region's economy.
Leading manufacturing employment industries in Canterbury have strong links to the region's strengths.
Food production (13,300 jobs) has strong links to agriculture
Electrical and machinery production (6,800 jobs) has in recent years been a strong driver of exports.
Structural and metal processing (4,200 jobs) have strong links to the construction industry and rebuild of Christchurch and Kaikoura.
The economic loss of the COVD-19 lockdown is likely to amount to $167m, mostly attributed to a loss of activity in non-essential manufacturing production during the 4-week lockdown.
Manufacturing activity deemed essential requires the up and downstream links to be operational. This will limit job losses from the largest manufacturing employment industry (food processing) in Canterbury.
Introduction
Manufacturing is an important industry for Canterbury supporting 36,000 jobs or 11.8 percent of all jobs in 2019 and contributing 11.4 percent or $4.1 billion (2018) to gross domestic product (GDP).
Manufacturing activity adds value to the economy, as its primarily associated with the transformation of goods. It has important links to primary industries (agriculture, fishing, logging and mining) as well as international trade through imports and exports and other local industry where it provides important inputs for the activity to take place.


Jobs
Most jobs in manufacturing are within food processing (13,300), an important support activity to the region's agriculture industry. Jobs in food production signify the value in forward and backward linkages between agriculture and manufacturing. Electrical and machinery manufacturing (6,800 jobs) have a relatively large export component, while structural and metal processing (4,200 jobs) have strong links to construction-related activity.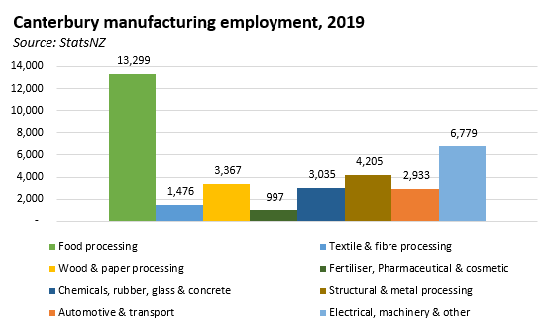 Christchurch city is the largest manufacturing hub in the Canterbury region and represents a diverse industry.
Most jobs are within electrical and machinery processing (5,000), followed by automotive and transport (5,000), food processing (4,600) and structural and metal processing (3,700).
Within other districts, employment in food processing dominates most of the manufacturing activity.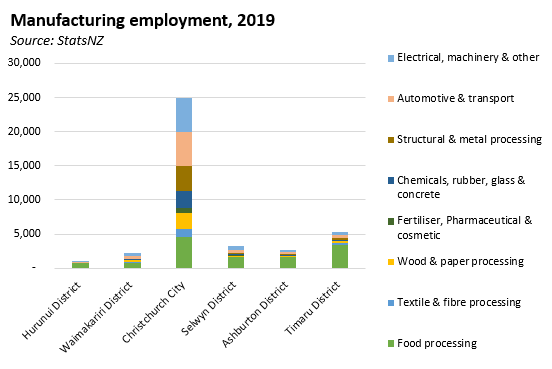 Manufacturing as an essential service
On March 25 the country went into alert level four lockdown, an unprecedented event. Government said "essential services and those that support them will continue to provide the necessities of life for everyone in New Zealand".
The manufacturing industry feeds into several essential services, resulting in a significant proportion of the industry continuing to create economic activity in the region and country.
Aspects of the industry that classify as essential include fast-moving consumer goods, health and pharmaceuticals, primary industries including food and beverage production, and processing, utilities and communications including supply chains.
According to 2019 figures, in Canterbury approximately 14,500 people were employed in "essential manufacturing services", accounting for 40 percent of the total regional manufacturing industry.
Of these, 5,500 were employed in Christchurch, 24 percent of the city's manufacturing industry. In Timaru, 3,550 people were employed in essential manufacturing – 75 percent of all people employed in the Timaru manufacturing industry. This suggests manufacturing resilience during Alert Level Four for both the town and surrounding area.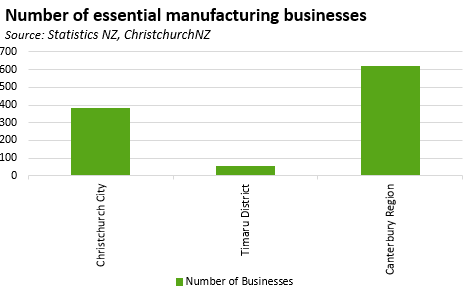 The value of economic activity associated with essential service manufacturing (2017 values) accounts for 36 percent of all manufacturing GDP and represents approximately 3.2 percent of the Canterbury economy.
Essential service manufacturing makes up 10 percent of all essential service economic activity in the region making it an important contributor to economic activity during the period of lockdown. The trend remains relatively unchanged when looking at 2013 figures.
Impact on the manufacturing industry
The economic impact of the growing COVID-19 outbreak has shifted from hospitality-driven industries like hotels and restaurants to other industries such as manufacturing.
According to 2017 figures, the manufacturing industry on average contributes $260m a month to the Canterbury GDP. Assuming lockdown lasts for one month, and considering essential services account for 36 percent of total manufacturing industry GDP contribution in Canterbury, we can estimate that the industry could experience a loss of up to $167m for the lockdown period.
Overseas experience in the countries like China suggest as a lockdown comes to an end and manufacturing businesses re-open, it is likely production levels will be lower than normal. This can be attributed to supply chain disruptions, curbed demand, and labour shortages caused by earlier job losses.
With food production regarded as an essential service and providing largest share in Canterbury's manufacturing employment, it is essential to allow up- and downstream linkages to reduce bottlenecks and limit further job losses.
Media enquiries regarding COVID-19