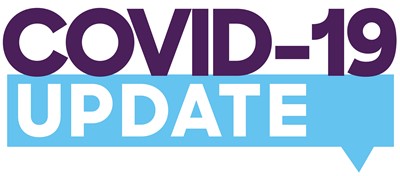 Canterbury Construction Industry in the COVID-19 Environment
Canterbury Construction Industry in the COVID-19 Environment
Background
By: Manon Julien & Dr David Dyason, ChristchurchNZ economists
A wave of construction activity in Canterbury followed the 2010/11 earthquakes. The seismic events caused vast structural damage to both commercial and residential buildings in the Canterbury region, resulting in increased demolition and rebuilding work across the region.
The value of building activity in Canterbury rose strongly after the earthquakes and peaked in 2017. Construction remains an important industry in the region supporting 29,646 jobs (10 percent of all jobs) in 2019. According to 2017 figures, construction contributed 10.3 percent or $3.65 billion to gross domestic product (GDP).
Jobs
In 2019, a large proportion of jobs in the construction industry are associated with residential construction (5,200), an important sub-industry both regionally and nationally while non-residential building construction supports 4,200 jobs. This is followed by road construction (3,200 jobs), with other heavy and civil engineering construction supporting 2,700 jobs.
Christchurch city is both the largest urban area in Canterbury and was the most affected by the 2010/11 earthquakes. This means most construction employment is in the city.
Employment in the Christchurch city construction industry aligns with the region. Most jobs are in house construction (3,500 jobs), followed by road and bridge construction (2,350 jobs), other heavy and civil engineering construction (2,150 jobs) and non-residential building construction (2,050 jobs).
The construction employment associated with the Canterbury rebuild activity continues to be above the normal demand-driven level of employment in construction for the region in 2019. This difference is estimated at 3,200 jobs and closing in 2019.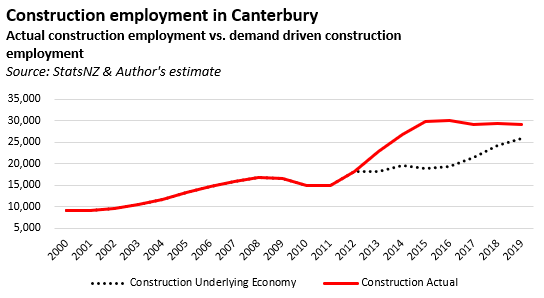 The rebuild investment injection has benefited the economy beyond construction. The economy consists of various streams of forward and backward links and spending in one area of the economy influences the wider economy. To illustrate this concept, a $1m investment injection in non-residential construction benefits other industries such as manufacturing ($148k), wholesale trade ($38k) and professional and technical services ($37k) and as a result, creates employment.
Construction as an essential service
The only construction services allowed under the lockdown are those related to essential services, critical infrastructure, or those needed to maintain human health and safety at home or work. These include plumbing, electrical and heating services.
According to 2019 figures, in Canterbury, approximately 4,870 people are employed in what is considered essential construction services. This accounts for 16 percent of the total construction industry in the region. During the lockdown, the majority of workers in the construction industry is inactive.
Impact on the construction industry
While the country is in lockdown, many industries and nearly all aspects of the supply chain are impacted, including the construction industry.
According to 2017 figures, the construction industry on average contributes $304m a month to the Canterbury GDP of which the essential services is contributing approximately $59m. Assuming the lockdown lasts for one month the industry could experience a direct loss of up to $245m during this period in Canterbury.