About Us
List Your Tourism Product on Christchurchnz.com
Tourism New Zealand Operator Database
How to add your business from newzealand.com
It is FREE to create an operator listing on the TNZ Operator Database. TNZ provides a number of tools and guides to assist you. Use the following guides and check list to ensure your listing will look its best on christchurchnz.com.
If you have any further questions, please contact weblistings@christchurchnz.com.
To start creating your TNZ Operator Database listing go to www.register.newzealand.com and sign up.
User guides
newzealand.com
How to edit your listing
Creating your assets
Images
Images will be a prominent feature of your listing so ensure they're of a good quality.
Adhere to TNZ's size criteria (minimum image width is 1080 pixels) and use captions, credits and landscape orientation if possible.
Gallery Thumbnail Crop - A bottom portion of your image will be cropped out on christchurchnz.com in order to show gallery thumbnails. Choose photos which are well framed and have points of interest in the centre to upper portion of the photo.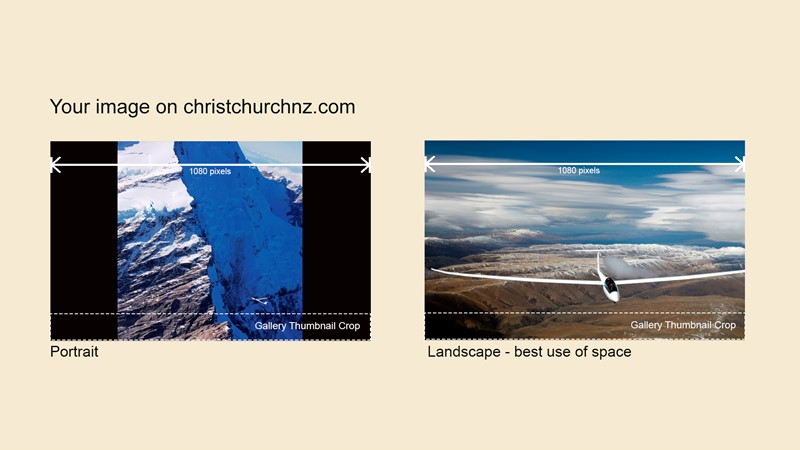 Christchurchnz.com check list
Ensure your images meet TNZ's guidelines and have captions and credits.
Add a video. Videos need to be first loaded on YouTube or Vimeo. 
Enter your contact details, including your Google maps location.
Add online booking information (when applicable).
Add Facebook, Twitter, YouTube and other social media links.
Enter your Qualmark awards.
Ensure your product and service description is detailed, includes your company name and location and assumes the user does not know what your product is about.
How to add your business on Zomato and Neat Places
Our Wine & Dine listings are powered by Zomato & Neat Places. To list your bar, restaurant or cafe on christchurchnz.com with Zomato there are two options:
We also feature listings from Neat Places. Find out how to partner with Neat Places.
How to add your event on Eventfinda & CCC What's On
Our What's On listings are powered by Eventfinda and Christchurch City Council's What's On. To list your event on christchurchnz.com there are two options:
Please note that we may filter certain events if we feel they are not suitable to our audience.